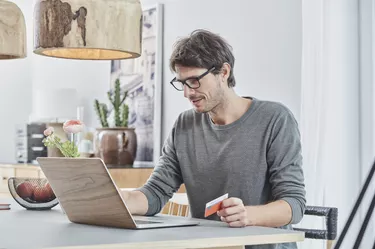 If you have an account with First National Bank, you've probably seen plenty of advertisements for the Legacy Visa Card. As with many banks, First National promises plenty of cardholder-specific perks, like discounts on travel and shopping. To make a payment on your Legacy Visa card, you can set up an account on the First National Bank website, mail the payment to the address on the bill or make a payment from your checking account by calling the customer service line.
Online Legacy Credit Card Payments
The easiest way to manage your Legacy credit card, including payments, is to set up an account online. Go to firstnationalcc.com/CardMemberServices and select Register New User. You'll need to provide your account number, your card expiration date, the three-digit security code from the back of your card and the last four digits of your Social Security number.
Once you have your account set up, go to the Legacy card login page and input your username and password. You'll be able to view account information and sign up for text and email alerts. Most importantly, though, you can schedule automatic payments or pay your bill. There is no fee for paying this way.
To pay your bill, select the Payments tab, then select Make a Payment. You'll be prompted to enter the amount you want to pay. When you click Enter, you'll be asked to confirm. There you can set up your payment information, which will be kept on file for future payments. If you need to change it at any time, you can do it on this screen.
Other Legacy Card Payment Options
If you receive your Legacy Visa bill in the mail, you'll have the information you need to send your payment. The address for First National Bank credit card payments is First National Credit Card, PO Box 2496, Omaha, NE 68103-2496. Make sure your account number is included on your payment.
You can also pay your Legacy credit card through the First National Bank automated phone system at 888-883-9824. The payment is free if you use a checking account, but if you use a debit card for payment, you'll be charged a fee of $3.95. If you'd prefer to make a cash payment, visit one of the First National Bank locations noted at ingolocator.com/web/results/firstnationalcreditcard.
Sign Up for Paperless Statements
Once you're signed up online, you may want to opt in to receive paperless statements. There is no fee for this service, and you'll be able to get all the information you would have received in your mailbox. You'll reduce your carbon footprint while also cutting back on the mail you're receiving each month.
To go paperless, choose Manage Statement Delivery Method once you're logged into your account. The system will walk you through the process of signing up. You'll receive a PDF version of the same statement you would have gotten via postal mail.
Limits on Credit Availability
Although being able to pay your Legacy credit card online is convenient, it doesn't mean your payments will automatically come off your available credit limit. If you have a $10,000 limit and you charge $1,000, you'll only have $9,000 in credit that you can use until your payment posts. First National Bank reserves the right to keep that limit in place for up to 30 days from the date the purchase was made.
In reality, once you've used your Legacy card login to make a payment, it will typically take up to 12 days to free your available credit. This is a security provision that many banks put in place to protect themselves.
Other Legacy Card Services
Once you've set up your Legacy card login, you can use it as a one-stop shop for managing your card. This includes disputing charges that were made in error. To dispute a charge, go to the Transaction History tab, find the charge in the list, select Description and select Dispute Transaction.
If your card is lost or stolen, you won't be able to report the information online. You'll need to call 888-883-9824 as soon as you notice a discrepancy.