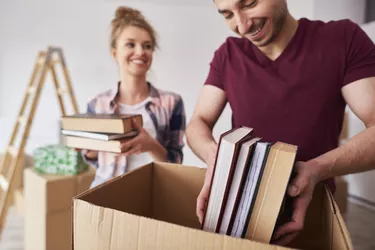 The least expensive way to ship books is typically to use the lowest-priced U.S. Postal Service option, based on the weight, destination and desired delivery date of your mailing. If you are shipping books on a regular basis (such as an eBay seller might), you'll also want to look into paying less for your envelopes. Reviewing more than one shipping option for books will help you find the most economical method that also gets it there in the timeframe you want.
United States Postal Service
The most common ways to send books include using the U.S. Postal Service, UPS, FedEx or DHL. The Postal Service option is often the cheapest, but it might take longer, depending on which option you use. All of these services offer you a quicker air service or basic ground service, which takes longer but is cheaper.
The USPS offers different options including its USPS Media Mail service, specifically designed for media like books. In addition, you can send packages First Class, Priority Mail, Priority Mail Express and USPS Retail Ground.
You can use the USPS website to calculate prices in advance, based on weight, destination, packaging and desired time of arrival. This page at the USPS website lets you compare shipping prices and add-ons, such as insurance, tracking and receipt options.
Registered/Certified/Insured Mail
Depending on how valuable the books you're sending are, you might want to send them registered or certified mail and/or have your items insured. Certified mail gets you a receipt and, if you pay extra, a copy of the recipient's signature.
Registered mail gets you a receipt only, but it is more secure. Certified mail is cheaper and arrives sooner. Some carriers will offer a small amount of insurance free. For example, the USPS offers ​$50​ worth of insurance free on some Priority mail shipments.
UPS, FedEX and DHL offer the same basic services as the USPS, but they might not offer all of the same options. They are also often more expensive. However, if you aren't near a post office or aren't interested in shipping from home, these services will provide the service you need, often at a competitive (although slightly higher) price. Just like the USPS, they offer package tracking, insurance, receipts and signatures, if you request one.
Depending on how far away you are from a shipping office and how valuable your time is, you'll save money on shipping books if you can print labels from your home printer and have your packages picked up. Visit the websites of the USPS and commercial carriers, or call their customer service numbers to find out how this works.
Many eBay sellers, for example, have home shipping stations complete with scales, office printers, envelopes, labels and tape. The amount of time and money (including gas) they save by having someone else come and pick up their ready-to-go, labeled packages is well worth it.
If you'll be shipping books in padded envelopes, you'll want to buy your envelopes in bulk. This can save you more than ​$1​ per envelope. If you walk into a stationery or business supplies store and buy one padded envelope, you can pay ​$1.50​ or more.
If you buy a small box of envelopes online from a discount seller, you might pay only ​15 cents​ for the same envelope. In addition to checking Amazon and eBay for cost-effective envelope options, do a Google search to find companies that don't sell on those two platforms.