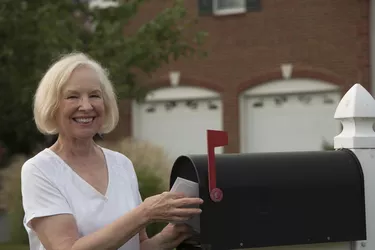 The United States Postal Service offers its Priority Mail Express service as the fastest way to deliver a letter or package. It offers delivery by 3 p.m. 365 days per year in many locations. You can send Priority Mail Express by heading to your local post office or arrange a free pickup by your postal carrier.
Preparing Your Item
The postal service offers free Priority Mail Express mailing supplies, like envelopes, tubes and boxes, for those using this service. Prices are based on weight and the distance traveled. Use the USPS price calculator at postcalc.usps.com to determine the cost of your specific item. Those using the flat-rate pricing, good for mailable items up to 70 pounds, pay the same price regardless of where the letter or package is being sent. To qualify for that pricing, you have to send your item in USPS-produced flat-rate packaging.
Every Day Delivery
Some of the benefits of USPS Priority Mail Express include pickup and delivery convenience and delivery frequency. Getting your package picked up requires just going online to usps.com, filling out a request and having the item ready when your postal carrier stops by. It is the only overnight service that is permitted to deliver to post office boxes. It also makes deliveries every day -- though arranging for an item to arrive on a Sunday or holiday may increase your cost, and the overnight delivery guarantee isn't in effect between Dec. 22 and Dec. 25. Guaranteed delivery before 10:30 a.m. is also available in some areas for an added fee. Each Priority Mail Express item comes with $100 insurance against loss, damage, or missing contents. Additional insurance may be purchased as well, up to a maximum of $5,000 in coverage.
International Delivery
Though it doesn't guarantee overnight delivery overseas, Priority Mail Express International Service offers many of the features that the domestic service does. Insurance for document reconstruction up to $100 and for merchandise up to $200, comes standard, as it does for domestic mailings. Delivery occurs within three to five days to more than 180 countries, and some destinations offer a money-back guarantee if it doesn't arrive on time. That delivery range is in place for both near and distant destinations -- it'll take that long to send something to Vancouver, British Columbia in Canada, for example.
Sender Rights
Priority Mail Express offers customers peace of mind that their letter or package will be there as scheduled. Because the service includes tracking services, you'll be able to tell where your item is and when it gets to its destination by typing in the tracking number online. Moreover, the service includes a money-back guarantee. If what you sent doesn't arrive on time, you can request a refund. It's the only option from the USPS that offers this guarantee -- other USPS services provide scheduled delivery dates, but not a guarantee of delivery by those dates.