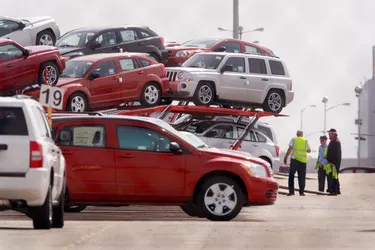 There are 1,810 miles between San Antonio, Texas, and Newark, New Jersey -- i.e. central Texas to central New Jersey. If you were to drive your car, rather than ship it, it would take 30 continuous hours or one day and six hours. It follows, then, that shipping your car is likely to be a somewhat expensive ordeal, although you may be able to save some money through the use of different options.
Basic Delivery
Auto transportation company Montway provides regular shipment of a Honda Accord from San Antonio to Newark for a cost of $730. A larger vehicle, such as a Jeep Cherokee, costs an additional $110. The delivery of the vehicle would take anywhere from one to two weeks and the company would provide "door-to-door" service.
Enclosed Shipping
Some shipping companies offer enclosed shipping options to protect the vehicle from bad weather and flying objects during transport. The service, however, costs considerably more. For example, the Montway shipping company charges an extra $520 for the enclosed shipment of a Honda Accord from San Antonio to Newark.
Expedited Shipping
National Transport LLC, a national shipper of vehicles, provides "priority service" for people who need their cars delivered sooner. The service requires one to four days for vehicle pickup and one to six days for delivery. The cost for the service for an average sized sedan, such as a Honda Accord, is $995.
Condition of Vehicle
Many shipping companies also charge a premium for cars that are not running. For example, Montway charges $120 more for the same trip from San Antonio to Newark if the car is not operating. Moving the car safely on and off the truck requires more work than simply driving the car onto the truck and therefore costs more.