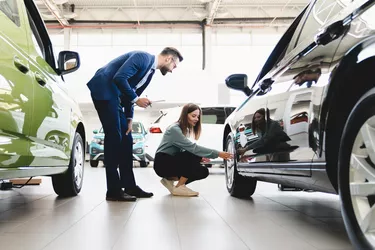 New-car warranty periods vary by manufacturer. Two separate warranties cover most parts of the car, while usually a handful of additional warranties cover just a few specific vehicle items, such as emissions parts, seat belts, rust or paint. While new-car warranties can save you money, it is important to note that maintenance parts are covered only for manufacturer defects.
Location of Warranty Information
Most new car manufacturer's boast warranty information and details online, which you can access by visiting their website. If you can access a new-car brochure from the dealer, warranty information can usually be found in the beginning or ending pages. A dealership representative can also let you know the standard warranty or you can access an owner's manual for details.
Average Car Warranty Length
Two types of warranties exist for a new car; a bumper-to-bumper warranty and a power train warranty. The bumper-to-bumper warranty, which covers just about every item in your vehicle that isn't maintenance related, usually runs for at least ​three years​ or ​36,000 miles​, whichever comes first, although some are longer. A power train warranty covers major components of the engine and transmission, and this average car warranty length is usually at least equal to if not longer lasting than bumper-to-bumper coverage.
For example, Chevrolet's powertrain warranty covers you for the earlier of ​60,000 miles​ or ​five years​, while the bumper-to-bumper warranty is the standard of ​36,000 miles​ or ​three years​. Kia, on the other hand, extends its warranties to ​100,000 miles​ or ​10 years​, whichever comes sooner.
Roadside assistance is usually a benefit within the warranty period. This differs largely by manufacturer but is worth consideration. Should you get a flat tire or your vehicle break down, you can call the manufacturer's roadside assistance program during your warranty period for assistance free of charge.
In addition, other warranties exist, such as a catalytic converter warranty, a seat-belt warranty or a rust warranty. The time periods for these are not always equal to the time period of a bumper-to-bumper or power train warranty. The owner's manual or a service representative can provide more information.
Significance of Manufacturer Warranty for Car
The most obvious significance of a new-car warranty is the money it potentially saves while it is in effect, should you need any repairs.
If you are leasing your car, find out whether the contract says you will pay for repairs. If so, you should consider leasing it for no longer than the time frame of your bumper-to-bumper warranty. You must repair your vehicle as necessary while leasing, so the warranty period ensures you'll have few or no out-of-pocket expenses to worry about if you lease for no longer than the length of the warranty.
Similarly, consider your warranty lengths when you're choosing financing for a new car. You might also look into car warranty companies that can provide extended coverage. However, you'll want to weigh the pros and cons of extended car warranties since they can be costly, especially the later you buy them.
Keep in mind that, no matter how long your warranty is, you will have to pay for all maintenance items such as tires, windshield wipers, brakes and rotors. The exception is if your dealership has a program offering benefits such as free oil changes or other services for a period of time. If your car sustains accident damage, your insurance company should handle it, not your warranty.
As maintenance is your responsibility, if you need a repair because of lack of maintenance, your warranty will not cover it. For example, if you do not change your oil and your engine seizes, you must pay for repairs. Or, if you have a vehicle with a manual transmission and you burn out the clutch because of your driving habits, you can expect to pay out of pocket for its repair.