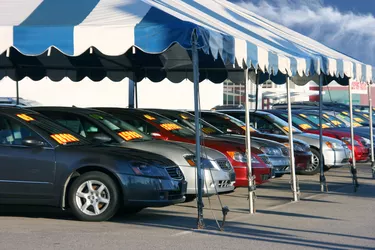 Returning a new car is often more challenging than buying it in the first place. Under certain circumstances, it's possible to cancel a car dealership contract, but you'll have to fill out a lot of paperwork. The contract is legally binding, so you might not be able to get out of it. Here's what you can do if you change your mind after purchasing a car.
Tip
If you're having second thoughts about your new car, you may not be able to return it unless it has major defects. However, some states require dealerships to offer a full or partial refund in certain circumstances.
Know What You Are Signing
Most dealerships don't allow returns or exchanges unless something is wrong with the car. Contrary to what you may have heard, there is no "cooling off" period for vehicle sales. Dealers are not legally required to give you three days to cancel the contract, explains the Federal Trade Commission. This applies to both new and used vehicles, but there are exceptions.
For example, California-based dealerships are required to offer a two-day cooling-off period for used cars under ​$40,000​. So, if you purchase a used vehicle and then change your mind about it, you may cancel the contract within two days. The vehicle must be in the same condition as when purchased, without any speeding tickets or liens. Additionally, the number of miles on the odometer should not be higher than 250.
If you meet these requirements and bring the original paperwork back to the dealership, you should receive a full refund. However, dealers may charge restocking and cancellation fees. The state of Wisconsin, on the other hand, requires dealerships to offer a three-day cooling-off period for off-premises sales. Buyers may also cancel a car dealership contract if the seller fails to deliver the vehicle within 15 days of the anticipated shipping date.
Generally, online retailers are more flexible than traditional dealerships. Just make sure you check the terms and conditions before entering a contract. A dealership that allows returns may impose mileage limits and other rules. But even if you buy from a dealer that doesn't explicitly allow returns, you may still be able to cancel the contract. Reach out to the dealership's manager to discuss your options – he may be willing to accept your request or make an offer that meets your needs.
Returning a new car is much easier when you have a valid reason to do so. For example, consumers can choose to return or exchange vehicles with unfixable mechanical problems, even if the dealership does not offer a return policy. This type of car is referred to as a "lemon." Nolo reports that about 150,000 new cars are classified as lemons each year. New vehicles with substantial defects, such as malfunctioning air conditioners or foul odors, may fall under this category, too.
Lemon laws vary from state to state and may apply to used cars as well. The state of New York, for instance, requires dealerships to provide a written warranty covering the engine, transmission and other essential parts. Dealers must also agree to repair used vehicles that turn out to be lemons. Customers may request a full refund if the problem persists.
Sometimes, it's not possible to return a new or used car. In this case, you can either sell it or have it voluntarily repossessed. The downside is that most cars depreciate quickly, and you may not recoup your investment. The National Automobile Dealers Association, Edmunds and other websites can help you determine what your car is worth, so you might want to check them out.