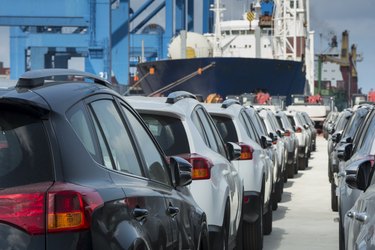 An "in transit" vehicle is one that is due at a dealership but hasn't arrived yet, such as when a dealer orders vehicles from the factory. Some dealers may consider a vehicle purchase from another dealer as "in transit" as well.
Factory Orders
If you purchased a new car that's not in stock from a dealership, the dealer may order the vehicle from the factory. When you purchase the vehicle, the dealer can view all vehicles being manufactured specifically for that dealership and modify one to match your purchase. Once built, the vehicle waits at the factory until delivery. Once the vehicle leaves the factory, the car is considered "in transit." Most vehicles are driven by transport truck to the dealership. The dealer should keep you up-to-date on the vehicle's status, as it can view manufacturer data that states all steps in the building and delivery process.
Dealer Locates
Another option for the dealer if he doesn't have your specific vehicle in stock is to purchase it from a different dealership and then sell it to you. After the dealer has your approval, it will locate the car using a manufacturer computer program that allows dealers to view the inventory and vehicle information of all dealers in the country. Once you agree to purchase the vehicle and the two dealers have agreed on the purchase, the vehicle is considered "in transit" until it arrives.
Time Frame
A dealer locate is faster than a factory order. Often, the dealer needs only to send a delivery driver out to the other dealership to pick up the car and drive it back, which can take up to one week. Factory order time periods can vary. Once the vehicle has been built, many issues can interfere with the vehicle's delivery, such as weather or market conditions. Once the vehicle is in transit, it can take several weeks to arrive.
Considerations
Dealers can't rush the transportation process of factory orders. If your dealer tells you that your vehicle is still in transit, it can only hope the vehicle arrives soon. If you don't want to wait for the car to arrive, consider settling for a vehicle that the dealer has on its lot or shopping at another dealership. Many manufacturer websites allow consumers to shop dealers to find a specific car. However, if you have already paid a deposit on a factory order or dealer locate, find out whether the deposit is refundable before purchasing elsewhere.