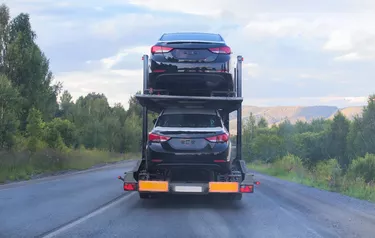 Buying a car isn't always as simple as walking into the dealership and leaving with everything you want. That's especially true in today's market, where customers can conduct hours of research online and choose all of the features they want without ever leaving their home.
What Does "In Transit" Mean?
In many cases, a car buyer places an order with a local dealership that fulfills it through the car manufacturer. As the customer waits, they may be given an approximate delivery date or pick-up date, tracking number, tracking status information and ways to check on the transit time and delivery status.
When you buy a car, an in-transit report from the tracking information doesn't necessarily mean it's on its way to you directly. It's a more general term that means it's in transit to the destination, which is likely the dealership. It can take a car anywhere from three to 30 days to arrive at its destination once it is designated "in transit."
A Car Is In Transit to the Dealership
When a courier service or courier company reports that a new car is in transit, that means it's en route, and it can be in transit before anyone buys it.
When you go to the dealership, you can sit in and test drive a selection of vehicles, but there's a good chance you won't buy one there that day. You may select from cars already in transit to their final destination, which may or may not be your local dealership, explains CarsDirect.
Many cars sell when they are already out for delivery or have left the distribution center. Cars are often rerouted based on sales. This is one of the reasons manufacturers' real-time tracking systems are so critical for efficient operations.
Other Nuanced Meanings of "In Transit"
The term "in transit" has another meaning regarding car buying and shipping. Many people arrive at their local car dealership with at least an idea of what they want. Very often, there are some specific features on their must-have list. If these things aren't standard, the car will need to be special ordered by the manufacturer.
Just because a car has to be special ordered doesn't mean it has to be custom built. Major manufacturers, like Honda, Ford and even Mercedes, sell thousands of cars and build them with many combinations of features. Certain features are bundled together in packages to make it easier and faster to make them. For example, if you want a sunroof, that may mean that you also pay for heated seats, a heated steering wheel and tinting, which are all temperature-control features that might be sold together.
If there isn't a vehicle at your dealership or another nearby that has the package you want, then the dealership will special order it from the manufacturer, explains Valdosta Toyota. When it does, it should give you an idea of the shipper's delivery time and tracking information.
When your status update shows "in transit," it's probably on its way to the dealership as the delivery address. Even after they're sold, cars arrive at the dealership to be inspected and registered and to receive other essential services. There may also be state-specific regulations about things the dealership has to do. Once all of the dealership's responsibilities are fulfilled, it will hand over the keys to you.
Can You Order a Car Online?
You can buy a car online, but it isn't shipped through FedEx, USPS, Amazon, DHL, UPS or other traditional shipping companies. Online car buyers, like Carvana, typically have their own fleet of trucks and contracts with car shipping companies. When you buy a car online, you will arrange with the seller to have it delivered to you.