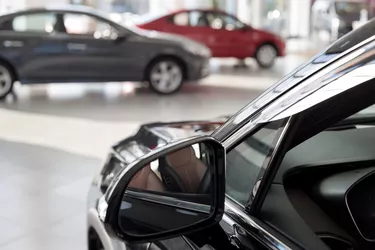 Dealerships are authorized to handle most state transactions, such as tax collection, license plates, inspections or emissions testing, titling and registration. So, you can expect to receive a temporary registration from the dealer along with dealer temporary tags. You may also receive other incentives for your purchase, such as a warranty, free oil changes or vehicle accessories. Otherwise, expect to sign your purchase paperwork and receive state forms afterward.
Temporary Registration From Dealer
Expect to sign state-appropriate forms for your title application and car registration at the dealership, although you may not receive your official paperwork or plates immediately. Your dealership will also collect necessary fees.
After you complete your paperwork, you may get dealer temporary tags while your paperwork is processed or actual license plates depending on where you live. You will receive a temporary registration to keep in your vehicle. Your registration, whether a windshield or license plate sticker, will arrive by mail before your temporary registration's expiration date.
Paperwork for Out-of-State Purchases
Many dealers can also handle paperwork for out-of-state purchases. Your dealer may offer you the option to register your vehicle and pay taxes on your own or it can handle the process for you. Depending on the distance of your home state, the dealer may charge a fee to complete your motor vehicle paperwork.
The dealer will provide you with a temporary plate, which allows you to drive legally and provide enough time for you to complete necessary paperwork in your town. Or, your dealer can mail you your license plates and registration once the paperwork is processed.
If you have negotiated other items with your purchase, such as free oil changes or an extended warranty, make sure you have any promised items in writing. Or, if you negotiated vehicle accessories, ensure that all items are in your vehicle before you take your new car home.
If you want free items with your car purchase, talk to your salesperson or a dealer manager before you purchase the car. You can likely negotiate for the items you want before you agree to purchase. The dealer does not have to give you any items that weren't promised or documented in your paperwork.
Follow-up Steps After Purchase
If your motor vehicle paperwork is not processed correctly, it may not be the dealer's fault. Sometimes, a state motor vehicle office does not recognize the address you provide to the dealer and uses the address you have on file instead. Update your address with your motor vehicle department to avoid this.
Any loan paperwork comes from your lender, not the dealer. Call your auto loan provider directly if you do not receive a payment booklet.
If problems exist with your insurance, call your insurance company. The dealer only requires proof of coverage for your state and lien holder upon submitting paperwork. Your insurance provider notifies your state and lien holder of your coverage on an ongoing basis.