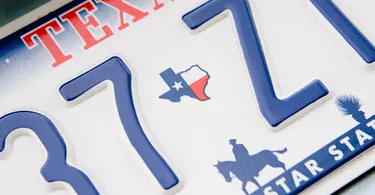 Before you can drive an unregistered vehicle in Texas, you'll need to obtain a 30-day temporary license tag until you can complete the full vehicle registration process in your county. If you buy a vehicle through a dealer, the seller usually handles the application for you and attaches your Texas temp tag so that you can legally drive off the lot. Otherwise, since you can't obtain a Texas 30-day temporary tag online, you'll need to make a trip to your regional Texas DMV or county tax office to obtain one.
Your Texas temp tag will let you use your vehicle in Texas for up to 30 days. At that point, you'll need to either complete the full vehicle registration process or request another temporary tag. However, be aware that the state only lets you have three temp tags for the vehicle, so that gives you 90 days to finish the registration process.
Texas also has some rules on qualifying for a temp tag. Your new vehicle needs to weigh 10,000 pounds or less, and it can't have a history of being used with expired plates or without proper registration. Along with having to get a state vehicle inspection, you'll need to have obtained car insurance that meets the state's minimums for property and bodily injury coverage.
Getting Temporary Tag From Dealership
When you get a used or new vehicle from a Texas dealership, they'll usually see if you can just transfer your existing license plates if you have some. Otherwise, they can complete some steps to get you a Texas temp tag before you drive off in your new vehicle. This includes getting proof that you have car insurance and showing your driver's license. The dealership will also ensure the vehicle has had an initial inspection before you leave.
This temp tag offered through the dealership will list the seller's name along with other details such as the vehicle's identification number, year, make, temp tag expiration date and temporary plate number. The dealership will usually also place it for you on the vehicle.
Requesting Temporary Tag Through County
Whether the seller didn't provide you with a temporary license plate in Texas or you need to renew your current temporary tag, you have a few options as long as you've gotten the required state vehicle inspection. You can either go in person to the tax assessor's office or to a Texas DMV location. Keep in mind that you'll likely need to make an appointment due to COVID-19, and not all locations may be open.
Prepare to bring proof of car insurance and vehicle inspection along with your vehicle's title and your driver's license. If your vehicle had been registered in another state, bring proof of that past registration too. The location will have you fill out a temporary tag application that asks for information about your vehicle along with your contact details and insurance information. You'll need to pay a $4.75 processing fee for your Texas temp tag along with $25 for the actual 30-day temporary tag.
You'll need to place the tag in your vehicle's back window if possible. Otherwise, you'll need to keep the receipt and temp tag inside your vehicle when you're driving.
Completing Your Permanent Texas Registration
Before your temp tag expires, you should make another trip to get your vehicle fully registered. You'll bring the same kinds of documentation – such as your proof of inspection, title, insurance card and driver's license – and you'll complete Texas's Form 130-U to apply for your Texas title and registration. You can expect to pay a registration fee that can vary depending on your vehicle's type and weight. You'll also incur a local fee, processing fee and potentially an additional cost if you want special license plates.