When you register your vehicle with the State of Texas, you will pay a fee that is determined by the model year or weight of your car. After paying, you will receive a registration sticker to be placed on your vehicle's front windshield next to your inspection sticker. However, the registration is only temporary, and you must continue to renew your registration before the end of the grace period that follows the expiration date on the sticker.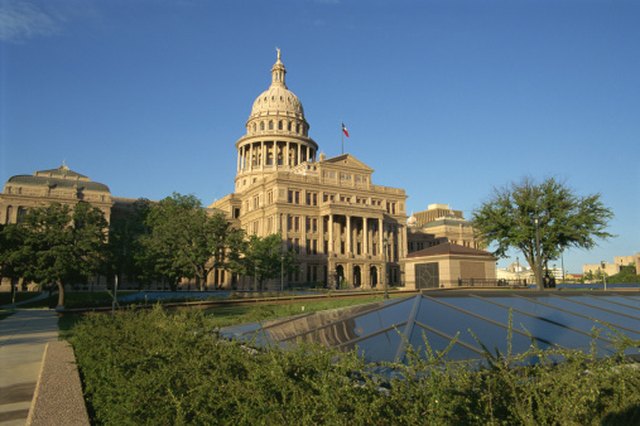 Timeline
Texas requires that motorists register their vehicles every year in Texas. You will receive notification of an impending registration date at least 30 days prior to expiration. In the circumstance that you do not receive a notification, you are still responsible for renewing your registration on time by contacting your county tax office. Texas allows drivers a five business-day grace period to obtain new registration after a vehicle's registration expires before facing the possibility of a law enforcement citation.
Warning
If you fail to renew your Texas vehicle registration after the five-day grace period, your expired registration becomes a misdemeanor offense punishable by a fine not to exceed $200. Depending on your county of residence, you may face additional costs in court and administration fees. Furthermore, if you drive with expired registration beyond the five-day grace period, you lose the privilege of renewing your vehicle registration online or by mail, and must instead appear in person at your county tax office.
Exception
The State of Texas will make an exception if your vehicle is not running. So long as your vehicle is not functioning and is not parked on a public roadway, you are not responsible for maintaining valid registration on the vehicle. However, once the vehicle becomes operational again, you must immediately register it with the state, though you will not have to pay for unpaid registrations from prior years when the vehicle was not functioning.
Renew
Texas allows most residents to renew vehicle registration by online and by mail. However, any motorist who allows his registration to expire or is a new resident registering his vehicle for the first time in the state must appear in person at his county tax office to obtain vehicle registration. Note that there is a $1 fee for renewing by mail, and drivers must provide proof of insurance when renewing.