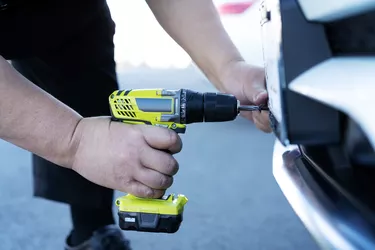 Whether you've got a brand new car to register or have to renew your existing registration, understanding the deadlines and grace periods in Texas can help you avoid driving your car illegally and paying unwanted fees. The temporary tag you get initially expires in 30 days, while an existing registration normally has a five-day grace period before you can face issues if you continue driving the car. However, the state currently allows for more flexibility with registration deadlines due to COVID-19, but it still requires following all the other guidelines in place.
Normal Texas Car Registration Deadlines
Typically, you'll get a 30-day temporary license plate in Texas whenever you have obtained a vehicle that lacks state registration. Provided by the dealer, Texas DMV or county tax assessor's office, this paper license plate gives you some time to get everything together, arrange a visit to complete the title and registration application and pay any additional fees and taxes. If necessary, you could request temporary tags as many as three times before you must proceed with registration to continue driving your car in the state. That means you'd have around 90 days of a grace period.
When it comes to Texas registration renewal, you typically have five days after the expiration date to continue legally operating your car on the roads. Continuing to drive can lead to fines and criminal charges, and you can expect to pay a late fee when you do renew your registration as well.
Current Grace Period for COVID-19
In response to COVID-19, temporary closures and social distancing requirements, the Texas governor has made some waivers that can give you some extra time before you have to complete certain vehicle tasks. These started in March 2020 and apply both to initial car registration and regular renewals.
Specifically, you get an extra 60 days from the time the Texas offices reopen with normal operations before you'll get hit with any penalties for late registration or late title transfer. This means that if your due date falls during the pandemic-related closures and restrictions, you can legally continue to drive your car even if the registration expires or doesn't get completed by the due date. You'll want to keep an eye on the Texas DMV's COVID-19 updates page to find out when this waiver period expires.
However, keep in mind this extension doesn't mean you can register your car or renew without having a current inspection report. So, you'll need to get that taken care of first to proceed.
Getting Your Initial Registration
When you're ready to initially register your car in Texas, you'll want to check with your local DMV or county assessor to find out if you need an appointment. Temporarily, the state requires an appointment due to COVID-19, but this can change as the conditions with the virus do.
You'll also want to make sure you've met the requirements and gotten your documents ready. For example, you'll need sufficient car insurance, a current vehicle inspection report, your car's title, your driver's license and money for taxes and fees. You might consider using a Texas vehicle registration fees calculator to calculate the sales and use tax on your vehicle's sale price, which is usually 6.25 percent, along with the title, registration, local and other fees.
Once you get to the county office, you'll fill out Form 130-U, Application for Texas Title and/or Registration. This asks for information such as the car's description, mileage and vehicle identification number as well as extensive details about you, your insurance policy, any liens on the car and your tax obligations for the car. Once you've paid the amount due, presented the form and shown all the needed documents, you can expect to get your registration sticker and registration card, and your permanent plates usually will be mailed.
Completing Annual Texas Registration Renewal
While the initial registration requires an in-person visit, Texas registration renewal comes with more convenient options. Specifically, you'll need to have gotten another vehicle inspection during the 90 days before you're due to renew and maintain your auto insurance. The state will usually send a renewal notice so that you don't forget about that date, and that notice lets you renew by mail, online or at a local office and pay the required fees. The Texas DMV notes that you can sometimes renew at other locations like grocery stores.