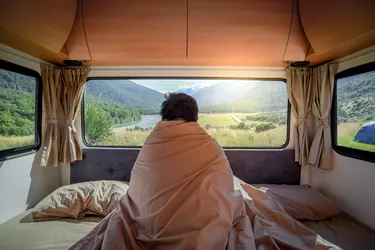 Whether you buy your camper trailer new from a local dealer or secondhand from a private seller, you'll need to follow your state's requirements to transfer the title and registration to your name and pay any fees and taxes owed. The process can vary slightly depending on the trailer's weight, condition and origin, but you typically have to obtain documents verifying the sale, identifying the vehicle and proving that the trailer is valid to register. Your state's department that handles vehicle registrations and titling will provide the application that you and the previous owner need to fill out.
Basics of Camper Registration Requirements
Each state has its own rules on whether a camper trailer actually needs a title and which process you'll follow to get it registered in your name. So, you'll want to check with your state's department of revenue, bureau of motor vehicles or a similar government agency first.
For example, Texas doesn't even require a camper title unless the trailer weighs over 4,000 pounds. Instead, you just have to show proof of purchase and a registration receipt that identities the trailer to register it. On the other hand, Missouri requests that you first contact them with information about the camper's weight, the origin of sale and trailer type to find out if a title will be necessary.
States can also have additional requirements for keeping your trailer properly registered for use. For example, you may need to complete a safety inspection every year if your trailer weighs over a certain amount.
Obtaining the Necessary Documents
When you complete the transaction with the seller, you'll need to ensure you get a few key documents from them. You'll also want to check with your state to make sure you don't need anything extra that applies to your situation.
If you've bought a used trailer, you'll need at a minimum the current title and the bill of sale that shows information about the seller and buyer along with descriptive and identifying information for the camper trailer. Your state may also ask to see proof of the trailer's vehicle identification number, especially if you've bought it from another state. If the trailer is brand new, the seller should give you the certificate of origin from the manufacturer along with the bill of sale. However, a dealer may handle the title process for you, so it helps to ask.
While you won't find a specific DMV title transfer form to use, you and the seller will need to fill out your state's vehicle registration and certificate of title form. You can often find it online and complete it beforehand. This requires both of your contact information, details about the trailer and any liens on it along with your intended use. You'll also need to sign or date this document and provide identification such as your driver's license number.
Determining Your Taxes and Fees
Unless you receive the camper trailer as a gift, register it in a state without sales tax or complete another type of tax-exempt transfer, you can expect to pay sales tax when you go to register the trailer and get your new title. This amount will depend on both your state and locality. For example, Missouri charges 4.225 percent of your final purchase cost alongside a varying local tax rate. Connecticut charges between 6.35 percent and 7.75 percent depending on the trailer's price.
You should also check your state's registration, title and administrative fees since these will add to your amount due. Some states may charge different fees depending on whether you bought the trailer in another state.
Completing the Trailer Title Transfer
When you're ready to get your new camper title, head to your local government office that handles motor vehicle registration and bring all the documents you gathered. You'll pay all the taxes and fees and present your completed application with the supporting documents. Once the employee verifies everything and finds that your camper trailer is valid to register, you'll usually get a temporary registration and license plate. You can expect to receive your permanent versions in the mail later.