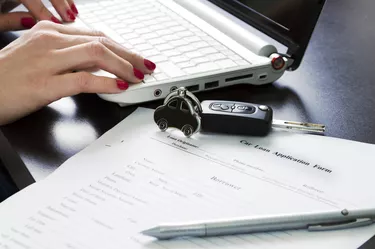 Drivers hit the highway on expired temporary tags all over the country every day, but the issue is more common in Missouri, thanks to a wrinkle in the state's legislative code. State law provides that you can buy permanent license plates, transfer plates from another car you own or buy temporary tags when you purchase a new vehicle, but temporary tags aren't valid forever, as the name suggests. And you might have to come up with some unplanned cash to get permanent tags.
The First Step: Temporary Tags
You'll need a Missouri temporary tag to drive your prized new possession off the dealership lot so you can go to a Missouri Department of Revenue licensing office to get the vehicle permanently registered. The temporary tags are good for 30 days, and only one can be issued to you during that time. A Missouri temporary tags extension is good for up to 90 days under special circumstances.
The dealership can sell you the tags and provide you with the paperwork you'll need to get permanent tags, but taking that extra step is on you. The dealership can't take care of permanent registration for you.
Requirements for Permanent Registration
You'll need a fair bit of paperwork for permanent registration:
A title signed over to you if you bought the vehicle through a private party, or the manufacturer's statement of origin if you've bought brand new wheels
A vehicle safety inspection report that's no more than 60 days old
A current insurance ID card or proof of financial responsibility
A couple of loopholes exist here, however. You can skip the safety inspection report if you have a manufacturer's statement of origin, or if you don't live in Missouri and just want to drive the car back to your home state. You can instead provide a Missouri bill of sale, a notice of sale or the Form DOR-108 Application for Missouri Title and License in lieu of the title or the statement of origin. You must also surrender your temporary tag when you permanently register your car.
The Sales Tax Wrinkle
Missouri's headache with expired temporary tags sources to the state's requirement that you must also pay the state's sales tax when you permanently register your vehicle. Sales tax is paid at the time of purchase and included in the transaction in most other states.
This is a relatively new requirement, passed in 2018, and a lot of Missouri drivers still seem to be unaware of it. They can be in for a rude surprise when they go to permanently register their vehicles. The tax is 4.225 percent, so this can add up to a fair bit of change. And that's just the state's rate – local sales taxes can add on as well in some areas.
How Much Will All This Cost?
A temporary tag will cost you $11 as of 2020 – a $5 license plus a $6 processing fee. That's not too prohibitive, but then you must pay for that safety inspection if you're not purchasing a new car. You'll have to pay for repairs as well if the vehicle doesn't pass the inspection. And you'll have to make at least a minimum payment toward insurance to secure coverage.
Then there's that state sales tax at 4.225 percent. That works out to about $1,056 if you purchase a $25,000 vehicle.