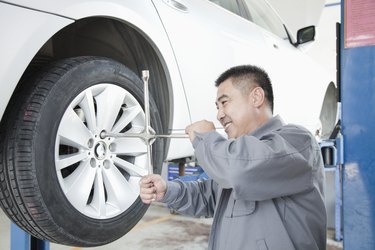 To clear a salvaged vehicle title in Kentucky, follow the Kentucky Revised Statutes. Get the vehicle road-ready, have it evaluated by a certified vehicle inspector and fill out the proper paperwork. Take the paperwork to your county clerk's office or the Department of Transportation's Division of Motor Vehicles in Frankfort and submit an application for a new title.
Paperwork
You'll need two forms to clear a salvaged title and obtain a new one. The TC96-215 is for previously salvaged vehicles, while the TC96-182 form is the standard application for new registration. Both forms can be obtained at one of Kentucky's county clerk offices, or from the Department of Transportation in Frankfort.
Attesting to Repair Work
Provide a notarized statement from the person who worked on the vehicle and original receipts for purchased parts along with the application for title. This statement needs to include a description of the work done and any parts repaired and replaced. If used parts were purchased from an individual, this seller will need to complete a written statement providing contact information and describing the parts sold.
Vehicle Inspection
A certified vehicle inspector must approve the vehicle before the owner can apply for a new title. Per Kentucky statutes, county sheriffs' offices across the state offer inspections. It costs $5 if you take the vehicle to them. If they must come to you, an additional $10 charge is added. The certified inspector will fill out the inspection section of the TC96-182 form, the application for registration and title.
Submitting Documents
A notary public must attest to the information and owner's signature on the forms. This can be completed when submitting the application, if necessary. Both the TC96-182 and TC96-215 can be taken to the local county clerk or to the DMV's One-Stop Shop, Rebuilt Section in Frankfort. The office is located in the Transportation Cabinet Office Building on Mero Street. Questions prior to submitting the application can be directed to 502-564-1257.
Post-app Procedures
After filing the paperwork, the vehicle owner has 60 days to obtain a new title and license tag for the vehicle. If the deadline is not met, the application process must be repeated. Kentucky laws require that after a salvage title is cleared, the vehicle must have a metal plate attached to the inside opening of the driver's side door stating that the vehicle was rebuilt.