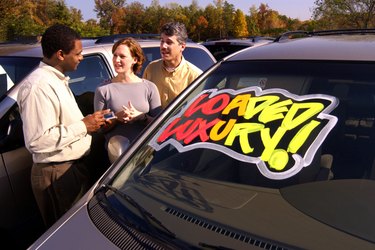 To remove a lien, you first have to pay the amount owed. Once that happens, you'll need to clear the lien off your title to prepare it for a new buyer. New York State has a series of steps that need to be followed to accomplish this. You also can sell a car with the lien still attached and leave it up to the new owner to file the paperwork. However, the new owner then risks having the lien transferred to his title.
Proof of Lien Removal
Once the obligation has been paid, you'll need to provide the New York State Department of Motor Vehicles with the original documentation that the lien has been satisfied. This can be via the Notice of Recorded Lien form (MV-901) or a letter from the lienholder confirming that information. Any letter from a loan company must be on the business's official letterhead and signed by an authorized officer. If the lienholder is an individual, the letter must be notarized.
Getting Documents to the DMV
Make a copy for your records, but send the original to the DMV, as only that is acceptable for these purposes. Also include your current title certificate and a check or money order for $20. Make that amount payable to "Commissioner of Motor Vehicles." Mail it to:
Lien Release NYSDMV Title Services Department of Motor Vehicles 6 Empire State Plaza Albany, NY 12228-0331
Once the lien release paperwork is received, the DMV will send you a copy of the title certificate with the lien removed. This takes anywhere from 60 to 90 days. It must be sent through the mail; you can't go to a DMV office to get it early.
Lost Title
If you don't have the copy of your title and need to remove a lien, send for an Application for a Duplicate Certificate of Title (MV-902). Mail that and the original proof that the lien was satisfied to the DMV at the above address. You can also drop the forms off at a DMV office. The DMV then processes the request and sends you a new title.
Transfer With the Lien
You can transfer the title with the lien listed as well, but you'll have to provide the new owner your original document proving the lien has been satisfied. The new owner then applies to the New York DMV for a registration and title certificate and encloses proof of ownership as well as the document that details the payment of the lien. The DMV then removes the lien and sends the new owner a clean title. If no proof that the lien has been satisfied is offered, the lienholder remains listed on the title certificate for the vehicle's new owner.