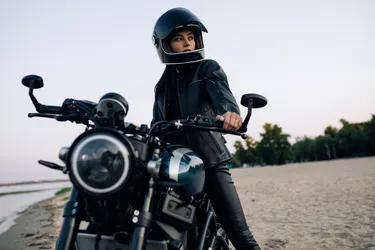 When you buy a motorcycle, the seller is required to provide you with a bill of sale. Motorcycle bill of sale documents are important; they serve as proof of purchase and list the details of the transaction. In many states, you cannot get a title to the motorcycle until you have a bill of sale in hand. A bill of sale is typically notarized to make it official, and the bill of sale should include the make and model of the motorcycle. Some states, as described by the State of California Department of Motor Vehicles, require you to notify the DMV within 10 days of title transfer. Other states have more extended requirements.
You'll need the title for many things, including registering and insuring your new motorcycle. If you've bought your motorcycle from a private party, this is especially important when transferring the title. Getting a title for a motorcycle from a bill of sale is a little nuanced, but with some tips, you can make sure the entire process goes smoothly.
A bill of sale is a binding document that proves ownership of an item. It's a legal document created by a seller and given to the buyer to confirm the transaction. This document includes information about the buyer, seller and item being sold. The bill of sale for a motorcycle includes the make, model, year, color, odometer reading and vehicle identification number. The bill of sale also contains a date and purchase price.
The motorcycle bill of sale is important because it shows that you have paid for the motorcycle and that the seller has given you permission to own it. In some states, a bill of sale is required to register a vehicle. A bill of sale can help if there's ever a question about the ownership of the motorcycle. It's crucial to have your bill of sale if you choose to sell your motorcycle in the future. You can use your bill of sale as a simple contract between you and the seller.
A title is a legal document that shows you are the legal owner of a vehicle, and it lists any liens or loans against the vehicle. To get a title, you will need to fill out an application and submit it to your local DMV. You'll want to make sure to visit your local DMV office to find the appropriate forms. Sometimes, your state's DMV may have these available online for you to print and complete. In any case, you should obtain a blank bill of sale if you cannot find the original.
You will need the title to register your motorcycle. The title is also required if you want to sell the motorcycle or transfer ownership. In some states, driving a vehicle without a title is not legally allowed.
How to Get a Title From a Bill of Sale
The first step to getting a title from a bill of sale for a motorcycle is to make sure the bill of sale is not only complete but also accurate. This document should include all of the relevant information about the motorcycle, the buyer and the seller. If you bought the motorcycle from a dealership, it might be able to help you with getting a title. In some cases, the dealership will take care of everything for you; however, if you bought the motorcycle from a private party, you will likely need to go to the DMV and apply for a title yourself.
When you go to the DMV, you will need to bring the bill of sale and any other required documents. These may include your driver's license, proof of insurance and proof of residency. For example, the State of California Department of Motor Vehicles requires a valid driver's license and proof of transfer. Once you have the required documents and fees, the DMV will process your application and mail you the title. In some states, you can get temporary license plates while you wait for the title to arrive.