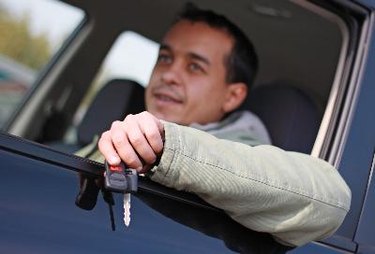 Are you wondering, "What do I do if I lost my car title"? If you need to sell your car but cannot find the title, you should simply contact any existing lien holders and your state's Department of Motor Vehicles, or DMV. If your title is clear but lost, you can apply for a duplicate title with your state's DMV office. In some states, you may even be able to request the duplicate title online for your convenience.
Understanding a Lien Holder Release
According to the New York State Department of Financial Services, car titles with existing liens are held by the lien holder, which is usually a bank or the original car dealership's credit lender. Once you have paid off your loan, the lien holder will forward your cleared title to your state's DMV. There may be a delay in this process, however, as lien holders must wait for the check to clear and for all paperwork to be modified.
Obtaining Your Title From DMV
Depending on where you live, your car title will either be mailed to you by your state's DMV, or you may be required to pick up the title in person at a DMV branch office. For example, the Ohio BMV mentions that car owners will get a title from the lender, and they can either use that or go to a local title office to receive a clear title document.
To find out how the rules in your state, contact your local DMV or BMV office for information. You can find contact details and hours for each county through your state's DMV or BMV webiste.
If your car title is paid in full but you have lost the actual title, you can request a duplicate from your state's DMV. Like your original title, the duplicate will come with a fee. Many DMV offices provide expedited title, and some in states like California even offer online request services.
Keep in mind that some states will need information on the vehicle, such as the vehicle identification number, or VIN, and your license plate number. California also requests your driver's license number and has you fill out a duplicate title application form with detailed personal and vehicle information.
Handling Private Seller Agreements
If your buyer is a friend or family member, you can arrange to send your car's title at a future date, once you have located the title or the title has been released from the lien holder or the DMV. In this case, the website Legalzoom recommends filling out a bill of sale agreement as proof of the transaction. For a vehicle bill of sale form, you can contact your local DMV, or find a template available online.
Once you have your car title in hand, make sure you fill out the seller's section of the title, including the odometer reading, which will prevent any liability issues once the buyer drives away. Some states also require a release-of-liability form, which is available from your local DMV office. Finally, you should physically remove your license plates from the vehicle before handing over the keys.