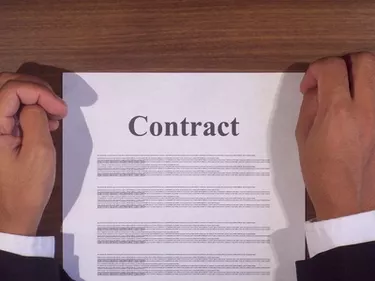 Whether they want to replace an automobile with a newer model or they are trying to ease the financial burden of monthly payments, most adults need to sell a car from time to time. You can opt to sell your car through a dealership or privately. Selling your car privately takes longer, but in most cases you will receive more money for your vehicle. Some buyers present a check for the full amount, while others might ask to set up a monthly payment arrangement. Before accepting a payment plan, familiarize yourself with the process.
Step 1
Find the car's market value. Research Kelley Blue Book or another online automobile appraisal resource to learn the market value of your automobile. These websites usually include information on trade-in values and private party values.
Step 2
Advertise the vehicle. Run an ad in your local newspaper and include information on your automobile to attract buyers. The vehicle's mileage, condition, make and price should all be included. You should also place a For Sale sign in the back window of the car and include your contact number.
Step 3
Clean the car. Wash the car's exterior and have the interior detailed to improve the vehicle's appearance.
Step 4
Draft a contract. Once you find a buyer, write a contract detailing the sale price for the automobile and specific information regarding the amount and length of the monthly payments. Include a clause that states your right to repossess the vehicle if the buyer defaults on the agreement. Make a copy of the agreement and present it to the buyer.
Step 5
Complete a bill of sale. After receiving all installment payments for the vehicle, complete the bill of sale located on the back of the vehicle's title. Fill in the blanks and write "sold as-is" on the document. Make a copy for yourself and present the buyer with the original. Ownership transfers once the buyer presents the title/bill of sale to your state's Department of Motor Vehicles.
Step 6
Cancel insurance and registration. Call your insurance company to have the vehicle taken off your insurance, and contact your DMV to find out how you should cancel the registration.