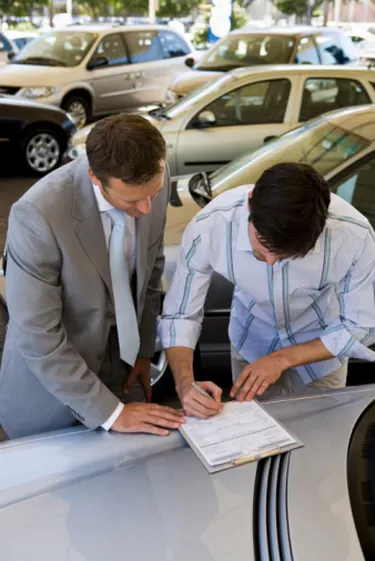 Selling your car allows you to rid yourself of an unwanted vehicle and make some money in the process. Additionally, selling your vehicle will allow you to put funds toward purchasing a new vehicle. Although selling your car is a simple process, you need to turn in a few forms at the time of sale.
Car Title
A car title is a legal form that establishes proof of an individual's ownership of a given vehicle. Although car titles vary slightly from state to state, they typically contain information such as the owner's name, Social Security number and home address, as well as the car's make, model, color, year and vehicle identification number, or VIN. Additionally, vehicle titles typically include important car data, including mileage, outstanding liens or loans and past selling price. For legal and security reasons, virtually all car sellers must present a copy of a vehicle's title to a buyer.
Bill of Sale
Individuals may need to present a bill of sale document when selling a car. Like a car title, a bill of sale contains key information such as the car's VIN, year, make and model, as well as a statement that the seller is the legal vehicle owner. However, the bill of sale also contains a formal statement transferring ownership from the seller (you) to the buyer (another individual or car dealership). Additionally, car bills of sale contain a statement from the seller on the condition of the car, affirm the correctness and currency of the title, and lay out the responsibilities of the seller and buyer.
Location-Specific Documents
In addition to the vehicle title and bill of sale, certain state and local governments require car sellers to present additional, location-specific paperwork to buyers. For example, some California locations require individuals to present receipts of smog certification and emissions testing. You should check with your state's department of motor vehicles to see which location-specific documents you should present when selling your car.