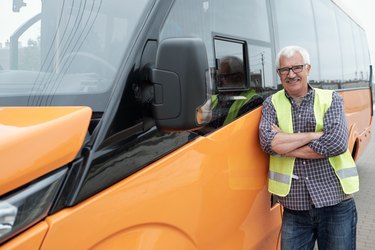 Like other states, California issues commercial drivers' licenses (CDL) and commercial learner permits (CLP) to drivers, and recipients can have passenger endorsements, hazardous materials endorsements and other certifications added on. There are different requirements that apply, and some are stricter than others. It makes sense to know what these are before starting an application.
Class B License in California
According to the California Department of Motor Vehicles, a Class B commercial drivers' license is required for those who want to operate single vehicles with a gross vehicle weight rating of ​26,001 pounds​ or any vehicle towing a second one that's not more than ​10,000 pounds​. The California DMV adds that all passenger vehicle drivers who plan to transport more than 10 people (including themselves) must get a "P" endorsement on their CDLs.
You might still be wondering how to get a Class B license in California, but the first thing you need to do is get a medical exam and ask the doctor to complete a DMV Form 546A, the physician's health report. The DMV will need a copy of this. It documents the medical screening and ensures that the driver has no conditions that might impact their ability to drive a passenger vehicle. Then, the applicant must fill out a DMV Form DL 44 (drivers' license application); they must also pay a fee.
How to Get a Class B License
Next comes the Class B exam, which you can schedule and take at a California DMV facility for a small fee. You also need a driver skill and road test to pass, which applicants can take at a CA field DMV office. Once an applicant has passed this exam, they must complete DMV Form 44C (for commercial drivers). The California DMV says applicants must complete at least 15 hours of hands-on driver training and submit a completed DL 1236 (California Commercial Driver Behind the Wheel Training Certification). If you are already employed, you can instead ask your company for a DL 170 ETP (Certificate of Driving Skill).
According to the Federal Motor Carrier Safety Administration, additional tests must be completed to get endorsements on a Class B CDL. For a P endorsement, there will be added knowledge and skills exams. Commercial drivers with learners' permits are prohibited from transporting passengers in a commercial-weight vehicle except for other trainees, test examiners, federal or state inspectors and auditors.
Getting a Non-CDL License
Non-CDL licenses are for drivers who operate cars and trucks that are less powerful or smaller than commercial vehicles. To get a non-CDL license, you'll need proper ID and proof of citizenship, such as a valid drivers' license from another state, a U.S. passport, a birth certificate and a Social Security card. You will need to take these to a local California DMV office, where you can complete form DL44 (drivers' license application). You'll have to pay a fee, and then you can take the written and behind-the-wheel test. Restrictions may apply depending on the applicant's age and other factors; it's best to look up your local requirements before starting.
Besides a driver's license and a vehicle, the other thing you need to drive is auto insurance. Some providers will not sell policies to unlicensed drivers, so unless you are on someone else's policy, you will have to wait to get your license first. Otherwise, you may be able to get a policy if you designate a licensed primary driver, add a co-owner to the vehicle title or list your name as an excluded driver.