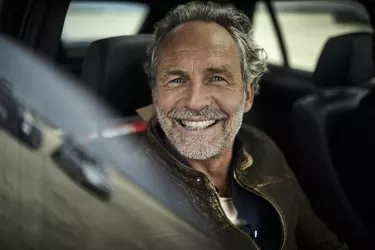 You might want to transfer a vehicle to a family member for any number of reasons. Maybe you're just kind and you're giving the car out of the goodness of your heart, or perhaps you're selling it. A transfer is also required at the time of your death to move it into the ownership of someone who's living. In any case, time is of the essence and you might have to take several additional steps first.
Who's a Family Member?
The California Department of Motor Vehicle (DMV) rules for transferring title to a family member are slightly different than for gifting a car in California to another individual. The state defines a family member as:
A spouse or domestic partner
Anyone who's related to you in one of these ways can dodge at least one transfer requirement.
Notice of Transfer and Release of Liability
The process of transferring a vehicle isn't as easy as simply signing over the title. Some additional paperwork is involved.
You must file a Notice of Transfer and Release of Liability, Form REG 138, with the California DMV within five days of giving the vehicle to a family member. You can do this online, by email or by regular mail.
This form is for your own protection. It guarantees that you can't be held liable for things like speeding or parking tickets, accidents or criminal activities involving the vehicle after you've transferred ownership.
Providing an Odometer Reading
You must also report an odometer reading to the DMV if the vehicle is less than 10 years old. You have two options for this. You can include the information directly on the title when you transfer it if there's a space for it. Otherwise, you must file Form REG 262, the Vehicle/Vessel Title Transfer and Reassignment Form.
Getting a Smog Inspection Certification
Normally, a smog certification must also be filed with the DMV for transfer of a vehicle if the car or truck is more than four years old or is powered by diesel fuel, but the family members cited by California law are exempt from this rule.
You'll have to deal with it if you're giving the vehicle to an aunt, uncle or cousin, however, and the certification is only good for 90 days. You have limited time to take care of this requirement if you do have to provide one.
Filing Form 256, a Statement of Facts, indicates that your family member is exempt from the smog certification requirement, and it must be submitted to the DMV regardless when you're transferring the vehicle to anyone who's a family member as defined by California law.
Lien Satisfied/Legal Owner/Title Holder Release
California DMV Form REG 166 is required if you don't own the vehicle outright. You can't give away a car or truck that's subject to an auto loan without the lender first releasing the vehicle if it acts as collateral for the loan. The lender must also sign this form, and that's admittedly a long shot if the loan is active and not paid off. The form must additionally be notarized.
Transferring the Title
You can actually transfer title when all this necessary paperwork has been submitted to the DMV. You have 10 days to do so after turning over the vehicle.
You and the family member receiving the vehicle must both sign the title, and so must any lienholders. This is in addition to filing Form REG 166. There's a $15 DMV family transfer fee.
You can file Form REG 227, the Application for Duplicate or Transfer of Title, if you've misplaced the original title or if it's been stolen. Both you and the family member receiving the car must sign it, but this form only applies if the vehicle is more than two years old and does not have a lien against it. Otherwise, you'd have to get a replacement title from the lienholder.
If the Vehicle Is Inherited
Finally, one last form is required if the transfer is being made due to the death of the original owner. This requires Form REG 5, an Affidavit for Transfer Without Probate. It can't be filed until the decedent has been dead for at least 40 days and unless the value of all their property – not just the vehicle – is $150,000 or less.