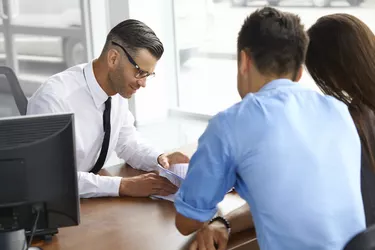 Pennsylvania uses two categories of vehicle ownership – joint owners with right of survivorship and tenants in common dictate that relationship – on certificates of title to prove vehicle ownership. When the owner dies, procedures and fees to transfer a vehicle's title to a new owner vary according to ownership category, the deceased's relationship to the heir and the probate status of the will, if applicable. The commonwealth's Department of Transportation, PennDOT, administers vehicle title transfers. Here's how to transfer a car with the help of the PA MV-39 form.
Transferring Vehicles With Joint Owners
If the couple divorced before the death, the surviving spouse must transfer the title as a "tenant in common" unless the divorce decree states otherwise.
Tenants in Common Transfers With Will
When a certificate of title does not indicate "joint owners with right of survivorship," the "tenants in common transfers" procedure applies. This means ownership can pass to the deceased's estate or heirs. Transferring the certificate of title for a gifted vehicle is a three-step process including the following:
Completion of the MV-39 form.

Presentation of the completed PA Mv-39 form, photo ID, the current vehicle title and a copy of the will to an authorized PennDOT agent or tag service. The original death certificate if the funeral director or attending physician did not complete the Form MV-39 Proof of Death section.
Payment of the ​$50​ title transfer fee plus any processing fee the agent charges.
The agent will complete and give PennDOT a second required form, the MV-4ST Vehicle Sales and Use Tax Return/Application.
Handling No-Will Title Transfers
When the deceased had no will or appointed estate administrator, the spouse or heirs can gift the vehicle and transfer the title to someone else using the same "tenants in common" procedure and forms employed in a transfer with a will. Should no surviving spouse or minor children exist, the law stipulates the order in which other surviving relatives can reassign the title in the same way:
Adult children

Parent

Sibling

Aunt or uncle by blood

First cousin by blood

Children of these relatives should they also be dead
These legal-age heirs can become administrators to transfer the title when the deceased leaves minor children behind but wasn't married. Otherwise, a court-appointed guardian for the children can use the PA MV-39 form to handle title reassignment.
Handling Registration Changes
Certificate of title differs from vehicle registration in Pennsylvania. Registration can only be renewed in the name of the deceased's estate with the exception of a spouse with joint ownership of the vehicle's title or a family exemption claim under the commonwealth's probate law. License plates related to registration can only be transferred to spouses, children or stepchildren or parents, step-parents or parental in-laws.