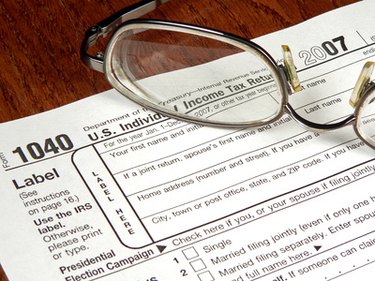 After an individual passes away, the administrator or executor of the decedent's estate must file her income tax return, explains H&R Block. If the estate administrator or executor needs more time to compile documentation and prepare the decedent's tax return, the representative must ask for an extension through the Internal Revenue Service in order to file the tax return after the April 15 deadline. If the executor does not get approval for the late tax return, the IRS may impose monetary penalties.
Step 1
Fill out IRS Form 4868. Form 4868, the IRS's Application for Automatic Extension of Time to File U.S. Income Tax Return, will give you an extra six months to prepare and file the income tax return.
Step 2
File an extension for the estate. The tax return for the estate is separate from the decedent's personal income tax return. You will need to request this extension using IRS Form 7004, Application for Automatic Extension of Time To File Certain Business Income Tax, Information, and Other Returns.
Step 3
Estimate the decedent's and estate's tax penalties. IRS Form Forms 4868 and 7004 require that you list the estimated tax liability for the year, along with the amount of taxes already paid by the decedent and the estate.
Step 4
Send payment with your Application for Automatic Extension of Time. An extension to file a tax return late does not permit you to make a late tax payment. You may file your 4868 and 7004 forms and pay your taxes online using a debit or credit card, or may send in your request through standard mail and may pay by money order or personal check.
Warning
This process applies to federal income taxes only. The process for filing state income and estate taxes is separate and will vary based on the where the decedent resided.