The death of a relative or close friend is a hectic time full of emotions. After the funeral the grieving process continues. Part of this process is going through the deceased paperwork and belongings and distributing them to his heirs. If the deceased owned a car then you, as the next of kin or executor, may need to sell it and distribute those funds to all involved parties. You must obtain a legal title in your own name before you can sell a vehicle, however. Check the specific laws in your state before attempting this process.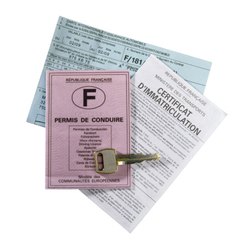 Step
Obtain a death certificate issued by the medical examiner in the locality where the deceased passed away. The mortuary that handles the funeral will be able to provide this documentation.
Step
Establish a legal relationship between yourself and the deceased to prove you should be the rightful owner of his property. A Power of Attorney or a Last Will and Testament naming you as the recipient is the best proof of ownership. Birth and marriage certificates proving an immediate family relationship will also suffice.
Step
Get the original title from the deceased person's belongings. Obtaining the original title shows that you are a close enough relative to have access to the deceased person's personal papers. You may be able to proceed without it, but you will need to petition the Division of Motor Vehicles to get a duplicate title before you can get one in your name.
Step
Make copies of the documents and your state issued identification card. Take all of the copies with the original title to the Division of Motor Vehicles. Fill out the paperwork necessary to title the car in your name.
Step
List the car for sale online or in a more traditional manner. The vehicle now legally belongs to you, so it can be sold in any legal fashion.
Step
Explain to potential buyers how you came to own the car. This explanation will absolve you from liability if there should prove to be a mechanical defect in the car of which you were unaware. Sign the title and turn it over to the new owner when the transaction is complete.