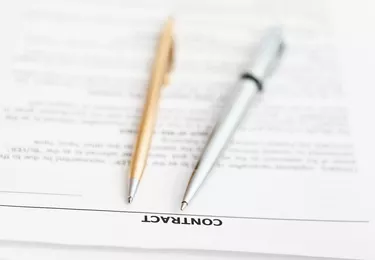 A loan's primary borrower, also known as a co-signer, is just as much of a vehicle's owner as the loan's secondary borrower, or the other person named on the auto loan. Both co-owners must sign the vehicle's title to release ownership to a dealership when trading in a vehicle. This means that the trade-in process can require some extra steps such as in the case in title-holding states where a trip to sign papers at the dealership or the necessity of a power of attorney might be involved.
Importance of the Vehicle's Title
Both your name and your co-owner's name are listed on your vehicle's title. A dealership requires that you provide a signed title at the time you trade in your car. Most dealers also require that your co-owner is present for signing. Some states require notarized signatures; many dealers employ a public notary, so you don't have to find one on your own. If notarized signatures are not required in your state, the dealer must verify the co-owner's identity before accepting his signature on the vehicle's title.
Considerations for Title-Holding States
If your state sends the vehicle's title to the lien holder and not to the actual owner, you won't have a title to offer your dealership. Your dealership will obtain the vehicle's title once it satisfies your car loan.
Dealers in title-holding states may have different signature requirements. You and your co-owner might be asked to return to the dealer to sign your names once it receives the vehicle's lien-free title. Your dealer may also request that you and your co-owner sign a power of attorney form. This form allows the dealer to sign the vehicle's title on your behalf, eliminating the need for you to return to the dealership at a later date.
Co-Owners Who Are Out of Area
Speak with your dealership to find out its requirements for a co-owner's signature when she is not local. If the co-owner is unable to come to the dealership, your dealer may offer an alternative, such as offering to mail any relevant paperwork. Your co-owner can expect to answer personal information before the dealer mails out the vehicle's title and other paperwork, in order to prove identity.
The co-owner may have to sign a power of attorney form, which is also sent out by mail. Since the form must be notarized, it allows the dealer to easily prove identity and to sign the vehicle's title on the co-owner's behalf.
States and lenders have different signature and title requirements for co-owners who have passed away or are unable to sign. Usually, a power of attorney form is necessary if the co-owner is not able to sign, such as for military reasons. If the co-owner is deceased, the owner of the estate may sign the title as long as proper paperwork is provided to the dealer. Necessary paperwork depends on state rules. To find out which papers and forms you need in order to transfer ownership, call your state's Motor Vehicle Department.