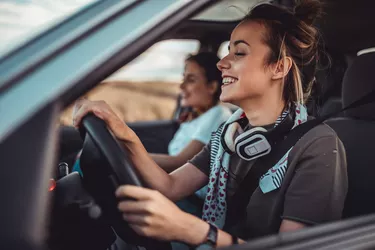 When you get your temporary driving permit in Ohio, you get one year to complete all the training, practice and testing needed for either your probationary or full driver's license. However, failing the driving tests or not having enough time to meet other requirements that vary by age can slow down the process. If you don't finish the requirements before the permit's expiration date, the renewal process involves completing the steps again that you had followed for applying for your original temps.
Understanding Ohio Temporary Driving Permits
Ohio issues temporary driving permits to people 15 1/2 or older so that they can legally learn to drive on the roads and prepare for the practical driving tests. The process involves bringing identifying documents to an exam station, taking the written Ohio temps test and passing a vision screening. You can retake the test in 24 hours if you fail.
The state has different requirements you need to meet to get either a probationary or full driver's license. If you're a minor, the state makes you wait at least six months after getting your temporary permit before you can take the driving tests, and requires several hours of daytime and nighttime driving experience along with a driver's education course. On the other hand, state rules allow you to get your temporary driving permit and take the tests as soon as you feel ready if you're 18 or older.
While you have your permit, you have to follow the state's rules on when you can drive and who must be with you. For example, a driving instructor or parents needs to sit beside a driver under 16, but older drivers just need a licensed person who's at least 21 beside them. Minors of any age will need a parent with them if they have to drive in the late night and early morning hours.
Renewing Your Temporary Driving Permit
If you end up needing to renew your Ohio temporary driving permit, the good news is that you won't have to go through the six-month waiting period again afterward if you're under 18 and ready to take your driving tests for the first time soon. However, it does mean that you need to gather your documentation and go to a driver exam station to complete the original steps to obtain a learner's permit.
Before heading to the driver's exam station, you'll need to locate your existing permit card along with other necessary items from the Ohio BMV's acceptable documents list. This includes documents showing proof of residency, identity and your Social Security number. Minors need a parent or guardian who can come with them.
Once you arrive, you'll need to retake the Ohio temps test, do the vision screening and have your photo taken. You'll pay a fee of either $23.50 or $26.50 depending on how long the permit has been expired. You can expect to get a temporary document until the state creates and mails the physical card to your home.
Getting Your Ohio Driver's License
After getting a new temporary permit and meeting all requirements, you can schedule your driving and skills test at your local exam station. This includes a maneuverability test along with a road test, and you'll have to wait a week to take them again if you fail. If you're a minor, you'll need proof of driver's education and a log of the required hours to qualify to take the test.
Once you pass, you'll get a paper you can take to a licensing location to move on to the next stage of the process for your probationary or full Ohio driver's license. This means another vision test plus more identifying documents. You'll get the probationary version if you're under 18, and it comes with limits to the times of day when you can drive and the number of passengers you can have with you. Anybody 18 or older gets the full license without such restrictions.
Ohio driver's licenses typically last for four years. You'll need to follow the process for renewing an Ohio driver's license, pay the renewal fee and present the required documents during your visit. All driver's license cards get mailed to your house, but you'll get a temporary document to use in the meantime.