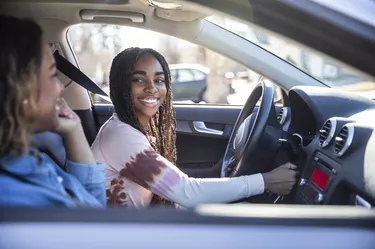 Every state in the U.S. has its own set of laws for obtaining driver's licenses, including those managed by the PA DMV. These also apply to getting boating licenses and motorcycle licenses. There are age restrictions, tests to take, fees to pay and rules to follow. Naturally, everyone doesn't follow these, but like everywhere else, if you break Pennsylvania driving laws, you could end up in hot water.
The PA Driver License Test
The PA DMV website writers spell out all the details for getting a new driver's license in the state. In Pennsylvania, you must be ​16 or older​ to apply for an initial learner's permit. The DMV gives out these learner permits to people who have never received a license, those licensed in other states with expired driver's licenses and new PA residents. To start preparing, you'll want to download the Pennsylvania Driver's Manual provided by the experts at PennDOT and start studying it. After you've studied enough, you'll get a physical exam and have the practitioner complete Form DL-180 for a non-commercial learner's permit application.
Then, you can visit a Penndot driver license center with money, your completed DL-180, proof of ID, two proofs of residency and your Social Security card. Look on the back of the DL-180 for forms of acceptable identification. Before they issue the permit, you'll have to pass two separate tests, a knowledge test and an eye screening. Those ​under age 18​ have to finish ​65 hours​ of adult-supervised learning, and road tests can be scheduled online or if you call ​717-412-5300​. Bring your permit, a DL-180C form (if you're ​under age 18​) and proof of vehicle registration and insurance.
What Documents Do I Need to Get a Pennsylvania Driver's License?
Applicants usually need nine things to get a PA driver's license. The first is a completed application (DL-180 for new drivers ​ages 18+​; DL-180TD for ​under 18​; DL-180R for transferring active licenses for other states). The DL-180 and DL-180TD need a signature from the medical professional who completed the exam. Proof of identity is next: U.S. citizens need two documents, including a Social Security card plus either a birth certificate, a U.S. passport, a Certificate of Naturalization or a Certificate of U.S. Citizenship. Non-U.S. citizens need to provide a valid passport, a Social Security card/SSA ineligibility letter and their original USCIS/immigration documents.
Two documents for proof of residency are also needed; a W-2, utility bills and tax records will suffice. As for the fees, an initial permit and four-year license cost ​$35.50​, and they accept credit cards. You'll then take the eye exam and knowledge exam and complete your driving practice if mandated. The last part is to pass the behind-the-wheel driving test.
Other Kinds of PA Licensing Requirements
The Pennsylvania Department of Transportation writers also provide a list of restrictions placed on drivers under 18, whether they are learning or have junior licenses. These young drivers cannot drive between ​11 p.m. and 5 a.m.​ unless an exception is made for employment, volunteer work or charitable service. These young drivers are also limited to how many passengers they can have with them. Only one non-family member ​under 18​ without a parent or legal guardian in the vehicle is permitted, and after six months on a junior license, they can only have three.
How old do you have to be to get your motorcycle license in PA? Riders who are at least ​16 years old​ can apply for a Class M learner's permit. They must do this before getting an unrestricted motorcycle license. The state also requires applicants to complete a free motorcycle rider training course provided by the PA DMV. Those interested in obtaining boating licenses also have to complete an education course, and the legal boat driving age in Pennsylvania is ​12​ for motorboats with more than ​25 horsepower​.