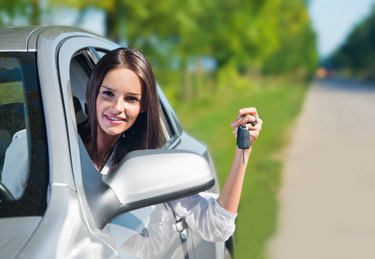 The minimum age for driving in Pennsylvania is 16 years old. As of 2015, Pennsylvania's graduated driver's license system for teenagers consists of three tiers: learner's permit, provisional license and senior license. Each stage contains requirements designed to ensure that teens have the adequate skills needed to safely operate a motor vehicle.
Junior Learner's Permit
As soon as you turn 16, you can apply for a learner's permit in Pennsylvania, which is the first step in obtaining a driver's license. Once you pass a written knowledge test, you are allowed to drive with a parent or guardian who is a licensed driver older than 21 sitting in the front seat. A spouse who is at least 18 years old and a licensed driver may serve that role as well.
Provisional License
A transitory step in the Pennsylvania GDL process, the provisional license can be earned as early as 16 1/2 years old. The key requirements are having the learner's permit for at least six months, completing 65 hours of practice driving and passing the driving test. A provisional license allows you to drive unsupervised between 5 a.m. and 11 p.m.
Senior License
At 17 1/2, you are eligible to apply for a senior, or unrestricted, license. Requirements for obtaining a senior license while you are still 17 include having the provisional license for a year, passing an approved driver's education class and not having any driving violations on your record. A provisional license automatically will become a senior license when you turn 18.