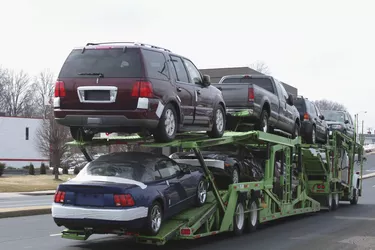 Auto transport management companies hire car transporters to drive their vehicles, which carry cars, trucks and vans from point A to point B. These drivers spend most of their working time behind the wheel, but they have to be well-trained in loading their charges and handling their vehicles on the roads. Proper safety protocols must be followed at all times to prevent accidents.
Car Transporters: Job Description
A vehicle transporter job description posted by Hertz lists the general responsibilities for this kind of position. Car transporters work with minimal supervision and often work nights, weekends and holidays. They are responsible for transporting their vehicles safely to different locations while following the employer's safety policies and procedures. Car transporters have to know how to pilot these vehicles and can be driving for many hours on end.
Large tractor-trailer transporters can hold up to 12 vehicles, and they operate with hydraulically operated ramps that are lowered, raised and tilted to accommodate their cargo. Transport drivers have to unload and load these rigs and have to work under scheduling constraints, so as you can imagine a lot of pressure can be involved. The vehicles to be loaded can be driven forward or backed in, with a focus on maximizing the available space on the rig. Everything also has to be safely secured before beginning the drive.
Car Transporters: Education Requirements
There are many auto transport driver opportunities out there for qualified applicants. It is important to have a high school diploma or GED to work in such a role; college education is not necessary. You will need a commercial driver's license (CDL), though. Driving-tests.org lists the steps for getting a CDL. To start, applicants must be ​18​ to drive intrastate and ​21​ for interstate driving. Each state has its own application forms, and you can complete these and submit them with the required information and applicable fees.
Applicants also have to take a vision test, written exam and complete medical tests as well. Once these are passed, they will be issued a Commercial Learner's Permit and then schedule a CDL road skills exam. There are other tests and inspections after that, plus additional fees.
Drivers may also have to get special endorsements for categories like hazardous materials, passenger vehicles, air brakes and tankers. If the vehicle and its contents weigh more than ​26,000 pounds​, you will also need to obtain a Class A License; Class B and Class C Licenses are also offered. You might also find it easier to get a job if you have certain skills related to truck repair, as it is immensely helpful to be able to get the truck back on the road quickly should a mechanical issue arise.
Car Transporters: Industry
Indeed.com claims that car transporters ("auto haulers") average ​$89,060​ a year, with the highest-paying cities listed as Grand Rapids, Mich., Orlando, Fla., San Antonio, Texas, Birmingham, Ala. and Clarksville, Tenn. ZipRecruiter shows a slightly lower average of ​$80,052​, with a range of ​$42,000 to $119,000.​ These numbers reflect reported salaries in different parts of the country, and all depend on those locations and driver experience.
The U.S. Bureau of Labor Statistics groups car transporters in their category of "Heavy and Tractor-Trailer Truck Drivers," and shows a 2020 median pay of ​$47,130​ per year. Keep in mind that this includes other kinds of truck drivers, though. There were ​1,951,600​ people employed in this field that year, and it is expected that there will be a ​6 percent​ increase from 2020 to 2030. This is on par with job growth expectations for other occupations.