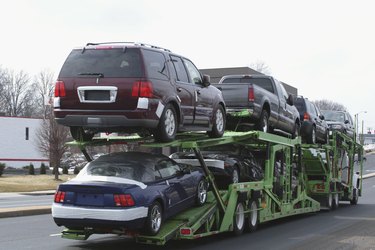 There are approximately 1.4 million tractor-trailer drivers in the United States, according to the Bureau of Labor Statistics. These professionals work to transport a wide variety of goods, including cars and other vehicles. Many car transporters are paid on an hourly basis, while some receive a set amount for each vehicle that is hauled and delivered.
Occupation Overview
Car transporters, also known as automotive deliverers, are responsible for moving vehicles from one location to another. These workers often transport new cars from a factory to a dealership, or move vehicles between different dealerships. Car transporters typically drive special tractor-trailers that are designed to securely hold many cars stacked on top of each other. Some car transporters work as employees and are paid a salary, while others are self-employed and set their own rates.
Typical Income
According to a 2008 report by the Bureau of Labor Statistics, the median salary for tractor-trailer drivers such as car transporters is $18.97 per hour. The average annual income of these professional drivers is $39,450. Transport drivers who are self-employed are often able to set their own rates. JobMonkey.com states that independent vehicle transporters typically make between $300 and $400 for each car that is delivered. Transport trailers can hold around 10 cars, which means that a single delivery could yield $4,000.
Income Variations
Several factors can affect the level of income earned by a vehicle transport truck driver. Many companies adjust the amount of pay based on the number of hours or miles driven. Cross country and other long-haul routes often provide high incomes, since a truck driver accrues more mileage during the trip. Additionally, some self-employed drivers must cover expenses such as maintenance, insurance, and fuel. Other drivers who work as employees may not need to pay these costs out of their own pocket.
Occupation Outlook
Incomes and job opportunities in the transport and truck driving profession are expected to grow in the foreseeable future, according to the BLS. Specifically, the Bureau predicts that employment will expand by nine percent between 2008 and 2018. Employment opportunities are expected to be best for drivers who are willing to work for long-haul and cross-country transport companies.