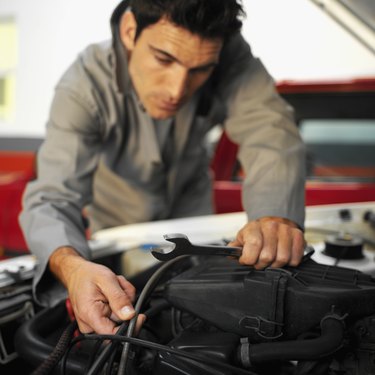 Master technicians diagnose and repair mechanical problems that occur in automobiles. Technicians who work in larger dealerships and auto repair shops may diagnose vehicle problems using an electronic diagnostic system. Mechanics who complete training through a National Automotive Technicians Education Foundation or Automotive Youth Educational System program receive the better job offers. However, a majority of employers prefer individuals with certification through the National Institute for Automotive Service Excellence.
Starting Salary
Master technicians earn an average salary of $40,000 per year, or $19.23 an hour, according to the Technician Salary Guide. Entry-level technicians can expect $12 per hour or $24,960 annually with a minimum overtime rate of $18 hourly. New master technicians can earn $35,000 per year after factoring in overtime, annual bonuses and other work incentives. Depending on the employer, technicians also receive health, retirement and employee incentives for outstanding performance.
Maximum Earnings
Master technicians should acquire certification in eight auto specializations, which include engine repair and performance along with heating and air conditioning systems. A master technician must also understand electrical systems, transmissions, brake systems and axles. As master technicians gain more experience in these fields, pay increases to $27 per hour, which equals an annual salary of $56,160 based on the guide's salary report. Seasoned technicians who work overtime can expect an overtime rate of $40 an hour.
Average and Additional Earnings
Automotive Careers Today reports that a master technician earns an annual salary between $51,000 and $71,000, which equates to an hourly salary between $24.52 and $34.13. Many technicians supplement their income by performing mechanical work on nights and weekends. This nets an additional $5,000 to $10,000 per year. With these additional wages, master technicians earn an average hourly wage between $26.92 and $38.94.
Specialization
Master technicians who specialize in a particular make of vehicle earn higher salaries. Graduates of the Porsche Technician Apprenticeship Program receive the better job offers and promotions. A Porsche-trained mechanic receives a starting salary between $25,000 and $35,000 annually. Progression to master mechanic yields a salary range from $60,000 to $100,000, according to Mechanic Schools salary statistics. BMW mechanics earn salaries based on tiers. A C-tier technician earns a maximum of $40,000 annually, while B-tier technicians earn between $50,000 and $70,000. A-tiered technicians, or BMW master mechanics, earn a maximum annual salary of $120,000, according to Auto Mechanic Schools.