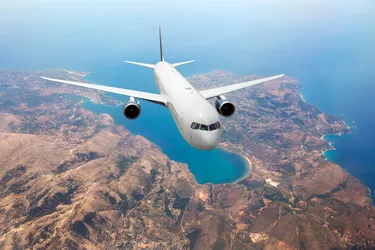 It's hard not to think of John Hughes when discussing modes of transportation. Hughes's classic movie, ​Planes, Trains and Automobiles​ featured two characters struggling to get home for Thanksgiving. While air transport can be the fastest of all the transport modes, there are benefits to trains and motor vehicles, too.
​Planes, Trains & Automobiles​ saw Steve Martin and John Candy blasting through every type of transportation available. But if, like them, you're trying to get from New York City to Chicago quickly, an airplane is still the best option. If you're going from New York City to Los Angeles, air transport may be the only choice if you don't have multiple days to travel.
Being able to move you from one destination to another quickly is air travel's biggest strength. But there are some air travel downsides, including long airport security wait times and flight delays, in addition to the logistics of getting to the airport in the first place. Once you arrive at your destination, you'll also have to find a way to get around without a vehicle, which may force you to pay for costly Uber rides or track down public transportation.
For trips that take only a day or two, an automobile is a viable option. You have a few options when it comes to automotive travel.
​Drive your own vehicle:​ This is perhaps the easiest option, assuming your car is in good shape.
​Rent a vehicle:​ A rental car can be a great way to save mileage on your own car while still having a vehicle with you throughout your trip.
​Carpool:​ If you know someone traveling to the same destination, joining forces could be useful. This is especially great if you're going on a solo journey.
But automotive travel has its own pros and cons. Pandemic travel behaviors show that travelers enjoy the social distancing a personal vehicle allows. Automotive travel takes time, though, forcing you to drive for days. Automotive travel can also limit occupancy, except for those who have multi-seater SUVs or minivans, which can be a problem for larger families.
While air transport can be the fastest of all the transport modes, there are benefits to trains and motor vehicles, too.
Rail Transportation Pros and Cons
If you want to reduce air pollution, the low emissions that railway travel brings can be enticing. However, trains can be pricier than other forms of transportation, while also being slower and less flexible. Amtrak has high speed trains that can help with the latter issue, but you'll likely pay even more than if you went with a standard railway option.
As with air travel, railway travel also leaves you without ground transportation once you reach your destination. You'll still need to line up public transportation, rideshare or rental car services to get around. For some, though, there's a charm to railway travel that puts it above other methods.
Other Transportation Options
When it comes to road transportation, cars aren't the only option. Look into bus services that might be able to get you to your destination at lower rates than trains. Bus services keep you from having to get behind the wheel, but you will have to share space with other travelers for hours on end.
Some travelers love the recreational vehicle experience. On the downside, RVs are expensive and burn through fuel quickly, and you will need someone in your travel group to know how to handle one. But you'll be able to sleep in the same bed every night, and those who have pets will love that they can easily take them along on vacation.
With consumers eager to hit the road, transportation bookings tend to be overcrowded. While each mode of transport has its pros and cons, there are ways to get a good travel deal by planning ahead of time and being flexible on your travel days and time.