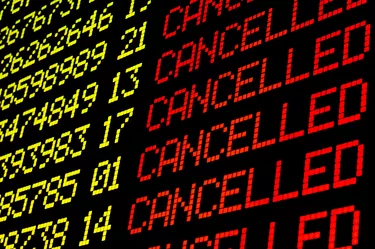 If you believe purchasing an airline ticket should ensure you get to your destination safely, reliably and affordably, U.S. Transportation Secretary Pete Buttigieg and the Department of Transportation (DOT) couldn't agree more. New rules proposed by the DOT to protect consumers in case of flight delays or cancellations may help you get a speedier refund and boost air travel passenger rights.
The Bureau of Transportation Statistics (BTS) reports that more than ​20 percent​ of all 2022 U.S. flights have been delayed. A report by Reuters noted a total of over 128,000 cancellations by U.S. carriers from January to July . At 19,000 cancellations, American Airlines has cut the most flights in 2022, and Delta has the record for least canceled flights at 10,000.
Canceled flights mean more unsatisfied air travelers. According to the brief, DOT has received a "flood of service complaints" from airline passengers, including those with nonrefundable tickets who could not travel due to flight cancellations, delays or coronavirus-related health issues.
While there are already DOT rules regarding airline refunds in case of a canceled or significantly delayed flight, the definition of "significant delay" had not clearly been defined, and its meaning is left to the interpretation of the airline. The vagueness of this metric often did not benefit the traveler.
The new proposed rules aim to get airline customers timely refunds owed to them by airlines. Current regulations already outline that time limit. Credit card refunds must process within seven days, and check or cash refunds must be paid within 20 days.
How New Rules Help Passengers
DOT's new proposal seeks to outline a more precise definition of what constitutes a significant change in flight schedule.
​Domestic flights​: Change in departure or arrival time of three hours or more
​International flights​: An arrival or departure delay of six hours or more
​Airport changes​: A change in departure or arrival airport
​Layovers​: An increase in the number of connections in the itinerary
​Experience​: A significant downgrade in amenities or conditions onboard the flight
Laying down these guidelines would allow DOT to enforce the fair practices regarding consumer refunds when flights are changed.
The proposed rules also define "canceled flight" as one published in an airline's reservation system at the point of sale that did not end up operating.
To incorporate public health concerns into the mix, the rules propose that passengers who cannot fly due to specific pandemic-related reasons should be protected. The new rules would require ticket agents and airlines to provide passengers with vouchers or travel credits without an expiration date.
DOT's new proposal seeks to outline a more precise definition of what constitutes a significant change in flight schedule.
Limitation on Airline Responsibility
There are limitations to the airline's responsibility, just as the DOT's current refund rules state. An airline is not required to give a refund on a nonrefundable ticket due to a passenger's personal issue or unsatisfactory travel experience. The airline is also not responsible for hotel room costs or other incidentals associated with passengers needing to wait for a new flight or alternate mode of transportation.
While many airlines choose to reimburse for such reasons in some cases, travelers can also protect themselves by purchasing travel insurance. Issues not within the airline's purview are usually covered by travel insurance, depending on the policy.
DOT New Rules Official Date
Currently, the new rules are still in the DOT's rulemaking process and are available for public comment. On Monday, Aug. 22, 2022 at 10 a.m. Eastern Daylight Time, a virtual public meeting of the Aviation Consumer Protection Advisory Committee convened on the new rules. Members of the public can read and submit comments on the full Notice of Proposed Rulemaking through the DOT website.
After a 90-day public comment period, the Department of Transportation will review and analyze the submissions and engage in discussion. The Department will then decide whether to continue on the same course, modify the proposal or withdraw it altogether.