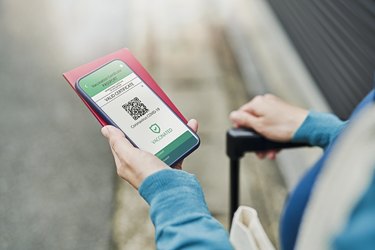 If it's been a while since your calendar has included travel planning, you may need a refresher on what kind of documents you'll need for departure and re-entry into the U.S. or to board an international flight.
According to the International Air Transport Association (IATA), about 60,000 travelers are turned back due to improper documentation each year. To save time and avoid the hassle, know which travel documents you need before your trip.
The World Is Traveling Again
Travel spending has been inching up between 2021 and 2022, with Americans laying out $100 billion in April, 3 percent above pre-pandemic levels. The World Travel & Tourism Council (WTTC) projects that global travel could reach almost $2 trillion, up 6.2 percent from 2019.
March consumer insight data from The Harris Poll, indicates that nearly ​85 percent​ of Americans plan on 2022 summer travel, and almost 50 percent intend to fly. February 2022 data shows the number of domestic flights reached nearly ​88 percent​ of pre-pandemic levels, up more than ​50 percent​ since 2021, according to the U.S. Department of Transportation.
With continued coronavirus-related travel restrictions, international travel is lagging behind 2019 numbers by ​43 percent​, says the U.S. Travel Association. But as more countries open to American travelers, it is crucial to understand the entry requirements and necessary travel documents for each country you plan to visit.
U.S. citizens traveling internationally must abide by the U.S. government requirements for returning home. Likewise, international travelers to the U.S. need to understand the re-entry requirements of their home country.
Valid Government Identification
Beginning on May 3, 2023, any state-issued ID must be REAL ID-compliant to be used for domestic travel. Even if you have TSA PreCheck, you will be required to comply with REAL ID. If you aren't sure if your photo ID is compliant, check with your local department of motor vehicles.
TSA does not require children under 18 to provide identification. If a traveling adult forgets or loses their identification, then TSA may allow you to fly through an alternate identity verification process.
Travelers flying internationally need a valid passport. If you need to update or apply for a passport, make sure you start that process six months before your departure date to avoid delays. If your passport is expired, you may be able to use it to return directly to the U.S. until June 30, 2022.
According to the International Air Transport Association (IATA), about 60,000 travelers are turned back due to improper documentation each year.
Depending on the specific countries you are entering, there may be visa requirements, custody document requirements, an international driving permit or documentation for certain medications. Always check with the embassy of any country you are entering for a list of specific documents.
Until recently, the Centers for Disease Control and Prevention (CDC) required all flight passengers over two years old to show paper or digital documentation of a negative COVID-19 test result. The CDC ended this requirement on ​June 12, 2022​, but still recommends that travelers to the U.S. take a viral test within three days of their flight and not travel if they test positive or are sick.
No change has been announced yet regarding noncitizen, nonimmigrant air travelers to the U.S. These travelers must show proof of vaccination against COVID-19 with a paper vaccination certificate with a QR code, either in paper or digital form. While the Travel Pass mobile app offered by the IATA has been decommissioned, other mobile apps, such as CLEAR, provide a similar vaccine passport-type service.
COVID-19 travel entry requirements vary by state, country and local government. For instance, while Denmark has no COVID-19 restrictions, China imposes strict limitations. Check the website of the airline and destination for specific travel- and entry-related information.
Get Your Travel Documents In Order
You cannot travel by your passport and credit card alone. Keep your travel plans on track by knowing the rules of every destination you plan to go and having the right travel-related IDs and records at the ready.