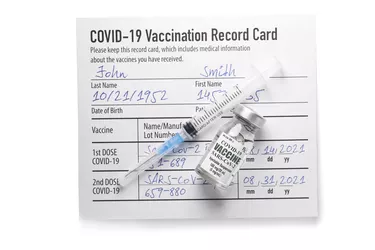 You've lost your COVID vaccine card. And with the coronavirus pandemic still in full swing, it's essential to have that proof of vaccination on hand. So instead of panicking and tearing apart your house and car, take the proper steps to find a replacement. It's not impossible to get a replacement card.
Vaccination Record vs. Vaccine Card
You've found your vaccination record, but that's not what you need.
You should know the difference between your COVID-19 vaccine card and your vaccination record. A vaccination record, sometimes called an immunization record, is a history of every vaccine you've had. This is often required for school, travel or jobs.
A COVID-19 vaccine card is given to you when you receive your coronavirus vaccine. It is used as proof that you have been vaccinated for COVID-19. It is only used for the coronavirus vaccine.
Do not call the Centers for Disease Control and Prevention (CDC) for a new card. They do not keep COVID-19 vaccination records on file. The CDC merely distributes cards to the vaccine providers. The vaccine providers fill them out and keep a record.
Healthcare Providers Vaccine Proof
If your doctor or other health care provider administered the COVID vaccine to you, then follow up with them. They should have a record of your vaccine. Your health care provider will replace your card.
If you received your coronavirus vaccine from a pharmacy like Walgreens, CVS or Walmart, contact them about the missing card. They keep a record of those vaccinated, and they can give you a replacement card.
Sometimes it isn't easy to contact the provider that administered the COVID vaccine. Your state health department's immunization information system (IIS) can help you.
The state health department can't provide you with a replacement card. But they may be able to provide a digital copy of your vaccination record.
Contact your state health department if you need any additional vaccination information.
Do not call the Centers for Disease Control and Prevention (CDC) for a new card.
A QR code or digital copy may be available to you by your vaccine provider. Some health care organizations offer MyChart. The QR code is embedded in the digital chart. You can easily access it from your mobile device, like an iPhone.
If you have a QR code reader on your mobile device, it makes for an easy and quick verification of your vaccination status.
Keep Your Vaccination Card Safe
Try to keep your vaccination card in a safe place. Make copies of it just in case you do lose it. One of the best ways to protect your COVID vaccination card is to take a picture of your card. That way, it's not only safe but easily accessible if you need to show it.
Fake COVID Vaccination Card
If you lose your card, don't be tempted to purchase a fake one. Most states consider this fraud punishable by fines or jail time.
In 2021, Memphis U.S Customs and Border Patrol Agents discovered 120 packages with thousands of fake cards imported from China. The telltale was the misspelled words and typos.
State attorneys general asked social media companies, like Twitter, and e-commerce companies, like eBay, to stop the sale of fraudulently completed or blank COVID vaccination cards.
Besides being fraudulent, the argument is that fake vaccination cards endanger the person with the card and other Americans.