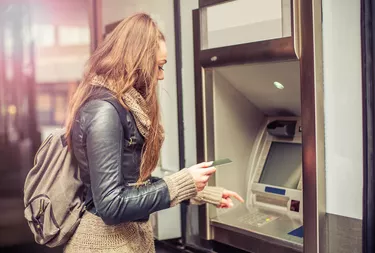 Personal identification is an obstacle when you are among the 10 million people in the U.S. without a bank account and you want to open an account. Because of recent U.S. and international legislation, and IRS agreements with foreign financial institutions, banks, credit unions, and savings and loan associations worldwide must verify the identity of U.S. citizens and residents when they open an account. You cannot open an account without ID; however, you do have options for the types of ID the bank accepts.
Showing ID is a Crime Deterrent
The U.S. Patriot Act makes a customer identity program, or CIP, mandatory for all U.S. financial institutions as a terrorism deterrent. Section 326 of this law allows them to set their own criteria for verifying a new account holder's identity, provided they gather at least four key types of information: Name, address, date of birth and taxpayer identification number.
Thanks to "Know Your Customer" or KYC rules followed globally to reduce money laundering, you must provide a certified or notarized copy of your passport to open a numbered account in a foreign or offshore bank. This applies even if you use an agent or intermediary to assist you. Fifty-six countries have KYC agreements with the IRS stating they require a passport or photo ID to open a new account. This includes Switzerland, historically a guardian of account-holder identity.
Everyone Has Identification Options
The CIP rule outlines a list of primary and secondary documents to prove identity. Primary ID is a government-issued document with a photo such as passport, permanent residence or alien registration card, or driver's license. It shows your name, address and residency or nationality and, to be acceptable, cannot be expired. Municipal identification cards issued by cities such as New York, New Haven, Connecticut, and San Francisco for undocumented immigrants, and state identification cards represent other acceptable primary IDs.
The Federal Financial Institutions Examination Council encourages banks to use more than one identification document because primary IDs may be fakes and identity theft is prevalent. These secondary kinds of identification include birth certificates, school ID cards, U.S. voter registration cards and Medicare cards. When you don't have a primary document, the bank may ask to see two secondary documents. For example, an employment badge with your photo and signature, a college photo ID or a welfare photo ID card, presented with a birth certificate may suffice. Banks also have the option of using a credit-reporting agency to verify your information.
You Must Provide Taxpayer Identification
In addition to having primary and secondary identification documents, U.S. citizens must provide their Social Security or employer identification number. If you applied for, but haven't received your Social Security card, you can present your receipt from the Social Security Administration to open the account, then show the card after it arrives.
Immigrants, or those without a Social Security number, can present an ITIN, or individual taxpayer identification number, obtained from the IRS. According to the U.S. Treasury, non-U.S. citizens can substitute an alien identification card number, foreign passport or other government-issued document with their photo and address.
If you're a minor, or under age 18, the parent or guardian who co-signs for your account must present her own identification and Social Security number. You also may have to show your Social Security card and birth certificate depending on bank policy.