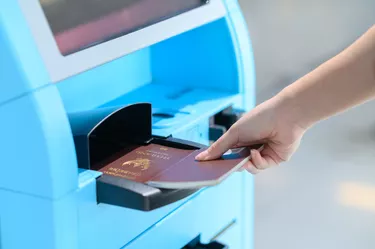 If you're planning to travel in 2022, you should already expect some new airport health-related screening processes in addition to the usual security checkpoints. If you are looking for a way to get through security lines faster at more than 50 U.S. airports, a CLEAR membership might be right for you. And you might be able to get some great discounts on the cost of membership with your credit card or loyalty program.
CLEAR expedites the airport security process by removing the need to stand in long lines for a manual check of your photo ID. CLEAR collects your biometric data and turns it into an encrypted code unique to you, giving you a trusted method to prove your identity with a simple touchless scan.
To get CLEAR, you'll need to provide your fingerprints, iris scans and your photo. Creating an account is simple.
First, to be eligible for CLEAR membership, you must be a U.S. citizen or legal permanent resident over age 18. You'll need a valid, government-issued photo ID for enrollment. Children under 18 may use the CLEAR membership of a family member without needing to enroll. Family members over 18 can be added to your CLEAR membership if you choose the Family Plan.
You can complete enrollment from start to finish at any CLEAR location. You can also create your account, pay for the membership online at clearme.com and finalize registration later, in-person at a CLEAR location.
When you open your CLEAR account, you'll submit minimal personal identification and pay for your membership by debit or credit card.
How Much Does Clear Cost?
Currently, the cost of CLEAR is ​$179​ for an annual membership. However, depending on your credit card offers or loyalty program rewards, you may be able to get a discounted or free CLEAR membership. CLEAR partners with some card issuers and airlines to offer discounts.
Delta SkyMiles members receive preferred rates on CLEAR membership, depending on SkyMiles status. Platinum, Gold and Silver Medallion members save over ​35 percent​, and Delta Diamond Medallion cardmembers receive free CLEAR membership.
United Airlines offers discounts for United MileagePlus members based on member status and offers free CLEAR membership to their Premier 1K members.
Capital One is not an accepted form of payment for CLEAR membership, but the credit card company does offer discounts on Global Entry and TSA Precheck costs. If you are a frequent flyer, having these expedited security programs working in tandem can pay off, especially if you get discounts from your credit card provider and traveler programs.
Finalizing Your CLEAR Registration
After setting up your CLEAR account and paying for your membership, you will receive an email confirmation from CLEAR. You will finalize your enrollment by verifying in person at a CLEAR kiosk.
At the CLEAR lane at your airport, you'll let a CLEAR representative know that you need to finish your enrollment. The representative will guide you through the process at a CLEAR kiosk. The verification is the only part of the CLEAR process that isn't touchless.
You will be asked to provide your biometric data and personal information on the kiosk screen. You'll also answer identity verification questions and scan your driver's license or other government-issued photo ID.
Once all of your biometrics are collected, and your ID is scanned, you are a CLEAR member and are ready to use your CLEAR membership.
Using Your CLEAR Membership
To use your new CLEAR membership, enter the CLEAR lane at your airport. Use the CLEAR kiosk to scan your boarding pass and confirm your identity with your fingerprints or irises, bypassing the standard security checkpoint for travel documents.
From there, the CLEAR representative will accompany you to the physical security screening. So, once you've been through the CLEAR checkpoint, you will go to the Transportation Security Administration line.
CLEAR members who also have TSA Precheck will provide identity verification the same way but then move ahead in the physical screening process. The TSA Precheck eligibility on your boarding pass will alert CLEAR staff to escort you to the expedited lanes for the TSA Precheck line.