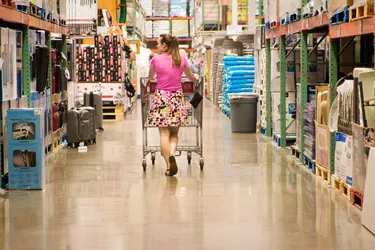 With its worldwide member count exceeding 100 million, Costco is a good choice for buying items in bulk and potentially saving on everyday goods and services including gas, medications, travel and groceries. But to get the most from the company's offerings, you'll need to pay for a membership and present your Costco membership card when you visit a warehouse. You'll find four membership options with different prices and perks for individuals and businesses. You can sign up on the Costco website, call customer service or register in person.
Choosing a Costco Membership Type
You'll want to first decide which Costco membership type meets your needs and fits your budget. All options let you shop online (without the ​five percent​ non-member charge or restrictions on items) and in person at any Costco in the world. They also come with a satisfaction guarantee and provide two cards. However, other benefits vary.
The annual membership offerings and highlighted features include:
​Costco Gold Star Membership ($60)​: This is the popular choice and cheapest option for families. The Costco Gold Star membership doesn't come with anything like extra discounts on services or cashback rewards.

​Costco Executive Membership ($120)​: As an upgraded personal membership option, you also get a subscription to the company's monthly magazine, two percent back in rewards on a maximum of $1,000 in eligible purchases and discounts on some Costco services.

​Costco Business Membership ($60)​: Similar to the Costco Gold Star membership, this business option comes with the basics. However, it lets you buy Costco items for resale and add people to your membership for $60 each.

​Costco Business Executive Membership ($120)​: Along with getting the basic business perks, this membership option adds on the two percent back in rewards, the Costco magazine subscription and discounts on Costco services that you get with the personal Executive membership.

Keep in mind that all membership types need to be renewed annually. In addition, you can manage your membership through the Costco app and website.
Register Costco Membership Online
By applying for your Costco membership online, you get the benefit of receiving your membership number afterward so you can immediately shop online. To start, visit the "Join Costco" page where you can choose the type of membership you want and be taken directly to the application page.
For either a Costco business membership or personal membership, you'll provide your name, contact details, birth date and information about household members you want to add. Business membership applications require the business name and contact details too. You'll also complete your payment process online with a credit or debit card.
You'll receive an email from Costco with your membership number you can use online right away to shop without a surcharge. You'll then need to go to your local Costco with this email and supporting documentation such as your driver's license for all memberships and your business license and certificates for tobacco and resale for business memberships. There, you'll have your photo taken and get your physical Costco membership card.
You can drop by a Costco location and apply at the membership desk. This is also what you might have to do if you've taken advantage of a Costco membership promotion and received a voucher through a site like Groupon. You'll provide the same information and documents as you would with the online process. The advantages of this option, however, are that you can pay with a check or cash if you want and you'll get the physical Costco membership card immediately.
Call Costco for Help Applying
If you have questions about becoming a member or need help with your application, dial ​1-800-774-2678​ and listen for an option to speak to a representative about Costco membership questions. After providing your information to the representative and arranging for payment, you should get told about your next steps. You can expect to need to go to a local Costco for your membership card as with the other options.