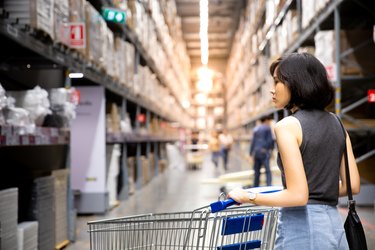 Costco promotes its membership with the promise of saving the consumer money. But when it comes down to it, what are the membership costs? Considering the costs versus the savings gives you a true indication of whether it is a good deal.
Costco's membership fees are divided into three levels. This allows families and small businesses to take advantage of Costco savings. The annual membership prices and perks are:
​Gold Star:​ $60, includes a household card
​Business:​ $60, includes a household card, additional cards $60 apiece, purchase products for resale
​Executive:​ $120, includes annual 2 percent reward on qualified purchases, savings on Costco travel products
Requirements and Policies for Customers
A membership fee is annual. All membership levels are required to show a Costco card to enter. Costco reserves the right to inspect all backpacks, handbags or any other bag on a member upon departing the premises.
Business members who resale items must provide appropriate resale information to obtain this perk.
Costco has a 100 percent satisfaction guarantee regarding its membership. If a member is dissatisfied at any time, they may cancel.
Another perk is, if a competitor advertises within 30 days a promotion on an item already purchased at Costco, Costco will issue a credit for the difference in price.
Costco's return policy has different stipulations for various products. For example, electronics can be returned after 90 days. But certain diamonds must be returned within 48 hours, with restrictions.
Costco's markup on products is low. They rarely mark up any more than 14 percent, while grocery stores mark up 25 percent. This can add up to large savings over the year.
For example, Kirkland, a Costco-brand, cheddar cheese, is priced at $4.59 for a 32-ounce block. In contrast, a grocery store's 8-ounce package of name-brand cheddar cheese sells for $4.99. Although these prices are subject to change, a clear picture is drawn. There can be savings with Costco.
Some pros to Costco include:
Toys often cost less than Amazon
20 percent more savings for buying extra bulk meat
Costco Concierge service, which is tech support, applies to qualified big-ticket items and select electronics
There's the ultimate way to save at Costco. Don't buy a membership. Instead, a customer could have a friend purchase a Costco Cash Card. This loophole will let a customer in without having a membership card.
Cons and Ways That Cost You
Having to stock up on your favorite items in bulk can be inconvenient. However, look out for an asterisk on the price sign. It means it's not going to be restocked.
Buying in bulk sounds like a money-saving feature, but it's not always. Cereal can be less expensive at Costco, but it does come in overly large boxes. A family of four would be hard-pressed to eat it all before it goes bad. That's the problem with buying in bulk – food can be wasted, and this is costly.
Customers must bring a bag or use the provided boxes for purchases.
There are no manufacturer coupons allowed.
Favorite items can be eliminated at any moment.
Mastercard and American Express are not accepted.
A family of 10 or a large social event may warrant buying in bulk. But most families just aren't going to go through the large quantities of meat or crackers that Costco offers.
There are pros and cons to a Costco membership. The return policy and money-back guarantee are great. But buying in bulk could cost you in the long run. Every family and individual should evaluate their consumption needs before joining Costco.