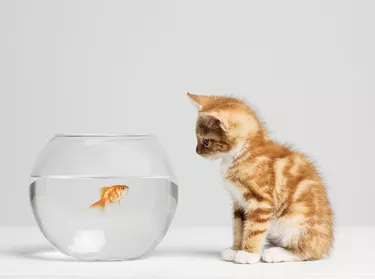 Amazon has just about every pet care product under the sun. The mammoth e-commerce retailer has all the supplies you need for daily life with your little best friend. And if you are an Amazon Prime member, you can also take advantage of Amazon's stellar shipping options.
While dogs and cats make up the majority of pets in over ​90 million​ households, other pet types, such as fish, birds, small animals, horses and reptiles, account for about ​40 percent​ of all pets. Amazon's pet selection covers them all.
To narrow down Amazon's expansive inventory, select "Pet Supplies" from the dropdown to the left of the Amazon search bar. From there, you can search by pet type, product category, brand name, average customer review, price, availability and seller. Amazon Prime members can filter to find products eligible for Prime delivery options.
Amazon's product selection and variety of sellers can be a bit overwhelming. However, when you are on the pet supply part of the site, Amazon's organization of pet products is easy to navigate.
Amazon's Pet Care Selection
Amazon is known for its colossal selection of items in any product category – and pet care supplies are no different. Whether you have a furry friend or one with scales, feathers or fins, you can fulfill their every need through Amazon. That is, except for prescription medications. Amazon is not in the pet pharmacy business just yet.
The American Kennel Club promotes the following basic pet care needs: food, shelter, water, exercise, training, health care, grooming, play, companionship, forgiveness and devotion. While the emotion-driven needs are the pet owner's responsibility, Amazon sells products for all of the other necessities.
​Food:​ From basic to veterinarian formula pet food to cat and dog bowls, you can find has all you need to feed (and treat) your pet.
​Shelter:​ Dog beds, dog crates, fish bowls, reptile tanks and bird cages are just the start of what you can find in this category.
​Water:​ You can choose from various dishes and water bottles to keep your pet hydrated.
​Exercise and Play​: From chew toys to agility training kits and treat puzzles, there is no shortage of enrichment and engagement options.
​Training:​ Leashes, collars, potty pads, litter boxes and invisible fences are just the beginning.
​Health care​: Shop among products like supplements, dental chews, pet-safe wipes and non-prescription meds like Frontline Plus.
​Grooming​: Shop shampoos, brushes, deshedding tools and other primping supplies.
Amazon carries a wide selection of products to control pet hair and odors around the house, from remover rollers to carpet rakes and pet-specific vacuums for pet hair clean-up. Among the odor elimination choices, you'll find Angry Orange pet odor eliminator, Bissell products, Fresh Step cat litter and Hoover deep cleaning carpet cleaners.
Whether you have a furry friend or one with scales, feathers or fins, you can fulfill their every need through Amazon.
In addition to name brands, Amazon carries their house brands: Wag dog and cat supplies and Amazon Basics. For high-rated, quality-driven products at low prices, pet customers can check these Amazon labels to find great deals.
When you comparison shop across other pet care retailers like Chewy and Petco, you'll find that Amazon is priced very competitively. If you're an Amazon Prime customer, you may also find that you can get your order shipped to you fast and free, which may impact your decision to drive to the brick-and-mortar store – especially with 2022 gas prices.
For savings and ultimate convenience, Amazon pet parents can choose to get scheduled deliveries on eligible items such as pet food, treats, kitty litter and poop bags. Amazon's Subscribe & Save service applies to thousands of pet products. Subscribe & Save's new customers receive a 25 percent first-time discount on the product and can earn up to 15 percent off future orders by subscribing to more products.
Amazon Has What Your Pet Needs
Aside from prescription medications, everything you need to keep your pet happy, healthy and cared for is at your fingertips in Amazon's pet section. An added perk of pet supply shopping on Amazon is that you can purchase anything else you need for your family and household at the same time.
While most pet parents love spoiling their best friend, the cost of pet supplies and services adds up fast. Finding ways to save and maximize your budget is essential, and Amazon has options to help you do just that.