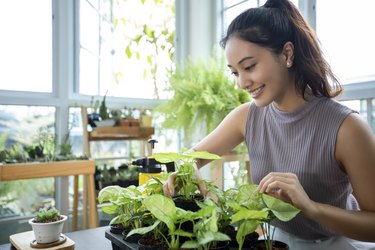 Houseplants are sometimes recommended to help relieve stress and loneliness as well as improve home air quality. But not all greenery brings mental health and environmental benefits. It's important to choose the right indoor plants for your household. The Sill is a website that helps pair buyers with the right plants to meet their needs, but is it the right resource for you?
Not everyone has a green thumb, but plenty of people stand to gain from indoor plants. That's where The Sill can help. Eliza Blank founded The Sill in 2012 as a way to bridge the gap between people and plants.
There are two ways to shop The Sill's products. You can browse the various categories and purchase items directly. There's even a sale section if you want to save a little money. If you're looking for easy-care plants, there's also a section for that.
Another option is to subscribe and let The Sill choose a plant to send you each month. You can sign up for the newsletter to get plant care tips and exclusive offers. If you live in Los Angeles, New York, San Francisco or Chicago, you can also shop in one of The Sill's physical stores.
If you're in the market for a new plant, The Sill brings several benefits you won't get elsewhere. First is the quiz on the main page. You simply answer some questions, and The Sill uses the information to match you with the right option.
Another benefit is the ability to search by your needs. If you're looking for pet-friendly plants, you can search those options, or you can visit the easy-care section to find plants like succulents and low-light greenery to match your environment. These plants are a great place to start if you're a first-time plant buyer.
Plants and Pottery Options
As you browse The Sill's site, you'll see that they offer a wide variety of options, including both artificial and live plants. You can find small plants like orchids and bird's nest ferns, as well as larger options like Monsteras and palms.
In addition to plants, you'll find a wide range of pottery options on the site. To make things even easier, you'll see a drop-down box of pottery options that match the plant you're buying, and you can choose from various colors to find something that matches your home decor. Lastly, each plant has care instructions that will tell you in advance exactly what you'll need to do to ensure your new plant thrives.
Before you click the "Buy" button, it's important to note that The Sill's prices aren't always cheaper than what you'll find elsewhere. Experienced plant parents will likely find they're paying more than if they took a trip to a local nursery or garden center. But The Sill does more than simply hand you a plant. You'll get the information you need to take care of it and keep it alive.
Still, it can't hurt to price around. Comparison shop on local providers' websites and Amazon to see just how much more you're paying to buy through The Sill. You might find that you can use The Sill's educational features to track down the right plant buddy, then buy it elsewhere for less.
If you're a true plant lover, it's only natural to have concerns about plants being shipped. The Sill's shipping process prioritizes ensuring that plants arrive safely. Your plant ships in its nursery grow pot, along with the potting mix that The Sill's experts used to grow it, to reduce the risk of shock.
Before committing to a monthly subscription, you might want to try ordering individual items. This will give you a feel for the products The Sill offers without requiring you to make a commitment.
The Sill gives you the convenience of having plants delivered to your doorstep. If you live in the city, away from easy access to a nursery or garden center, The Sill could be the perfect site for you. But even if you have plenty of local shopping options when it comes to greenery, The Sill offers a level of convenience that is tough to find otherwise.