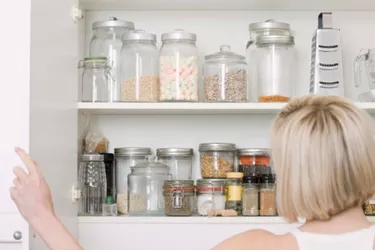 Lining pantry shelves is one of those things that you don't absolutely have to do, but it is a good idea. Shelf liners help keep pantry shelves clean, shielding them from crumbs and spills, and makes clean-up quick and easy. Shelf liners also protect your shelves' surface from getting scratched when you slide items across the shelves. Specialty shelf liners can be expensive, but there are inexpensive options.
Aluminum Foil
You probably already have aluminum foil in your kitchen, and it can be used as shelf paper. It is inexpensive, plentiful and easy to find. Additionally, it lays flat and you can easily mold it into place. When it gets dirty, simply pull it up, throw it away and replace it with a new section of foil.
Self-stick Platic Wrap
The type of plastic wrap that sticks to surfaces when pressed it a good alternative to expensive shelf liner. Its sticky side grips the shelf, holding the wrap in place. Additionally, it is waterproof and easy to remove. Like aluminum foil, it's easy to obtain, inexpensive, and you can simply toss it in the trash if it becomes dirty.
Wax Paper
Wax paper is another kitchen staple you might already own and can easily be put to use as shelf liner. You can cut and lay it flat with ease, without adhesive. Its waxy coating repels water and spills, and you can easily remove and throw it away when it becomes dirty.
Vinyl-coated Paper
Vinyl-coated shelf paper has an adhesive backing on one side, and a waterproof vinyl coating on the other side. The adhesive holds it in place, and the vinyl coating allows you to wipe it clean. This type of paper is often available in many colors and prints. One drawback is that it may be hard to remove.
Wrapping Paper or Newspaper
Ultra-thrifty but not as durable as the other choices listed here, wrapping paper and newspaper can be recycled and re-purposed as shelf liner. These materials can often be had from friends for free, or you can recycle them from your own household. Because newspaper and wrapping paper are not waterproof or particularly durable, you may want to use a double layer. Because they are so plentiful and inexpensive, this shouldn't add much cost to your project.
Vinyl Tiles
If you have vinyl tiles leftover from a remodeling project, use them to line your pantry shelves. The are durable, waterproof, can be wiped off and offer a degree of cushioning. Best of all, if they're sitting around your garage, they are already bought and paid for. Simply cut them to fit your pantry shelves.
Nonslip Carpet Pads
"Waffle-weave" carpet padding is practically identical to some brands of spongy shelf liner. The shelf liner is sold in rolls, like foil or plastic wrap. If you purchase it in carpet pad form, you get more for your money. Simply cut the rug pad into pieces that will fit your pantry shelves.