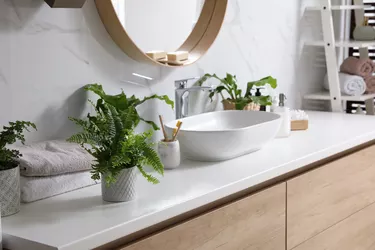 A bathroom décor summer refresh can be uplifting and inspired without being expensive. Summer is worth celebrating, and the sunshine and bursts of color make for great interior design inspiration. Whether you're rejuvenating a master bathroom or brightening a powder room, design ideas for your project are in bloom.
A Summer Bathroom Décor Makeover
When it comes to home décor makeovers, a small budget can go a long way in a bathroom. Bathroom restyling may not be a home improvement that will earn you a tax break, but you're sure to get the rewards of enjoyment and inspiration from it.
While you can certainly go for a full-out bathroom remodel any time of year, you can get a great summer refresh without doing any major bathroom renovation work. Because bathrooms are small spaces, you can do a lot with paint, linens and accent items to transform something ho-hum into a small DIY summer refuge.
When aiming for a summer theme, things like the beach, sand, boats, water and fresh flowers may come to mind. And these elements can be worked into a sparkling summertime bathroom design idea.
Your bathroom already has the first part of a coastal, beachy theme: water! You just need to bring in some other elements like sun, sand, boats and sea life.
The calm colors of the coast are one way to approach a beachy bathroom. A bleached-out color scheme or nautical blue and white both work well. Seek out wall décor that speaks of the seaside such as seashells, starfish, sea birds and fish. Items with nautical rope and brass will also suit this bathroom theme. Craft stores often have budget-friendly pieces you can put to great use!
An accent wall can be covered with a whimsical beachy wallpaper, like this peel-and-stick palm leaf motif at Home Depot or ocean pattern from Spoonflower. Remember that peel-and-stick papers work best for powder rooms that aren't exposed to steamy showers and baths. When choosing a wallpaper for a full bath, choose one that will stand up to the humid bathroom environment.
Top it off with a beachy-themed shower curtain and bath mats and hand towels in a soft color that complements the overall motif.
Because bathrooms are small spaces, you can do a lot with paint, linens and accent items to transform something ho-hum into a small DIY summer refuge.
A Tropical Bathroom Paradise
The design elements you have to work with for a tropical bathroom are similar here: paint, decor items, linens and bathroom accessories.
The theme for a tropical paradise should be lush greenery and bright tropical colors. Look at wallpaper with bold tropical palms or exotic rainforest flowers for an accent wall. Color schemes might include bold jungle greens and stark white with gold as an accent color.
If you have a green thumb, bring in some of your plant friends, keeping in mind the natural light in your bathroom space and the frequent humidity if it's a full bath. Succulents might do well in this new tropical space, and if you have the room, go for a paradise palm (natural or artificial).
A Modern, Minimalist Summer Bathroom
If you want a summer bathroom refresh but aren't as keen on a themed bathroom trend, go for a modern bathroom décor makeover that emphasizes a fresh, clean, summer vibe.
It may be more your style to skip the summery props and pay homage to summer with a crisp white or summer pastel hue for the walls and linens. Choose another color for an accent wall or the bathroom accessories. Bring in gold accents in the wall décor to add a little sparkle.
If you have a bathroom vanity with a countertop, consider keeping a vase of fresh flowers or choose some pretty artificial ones that are easy to keep looking fresh. If you have a freestanding sink, you can add minimalist floating shelving for small vases or shiny accent items. You can score some great, simply designed items for your bathroom at IKEA.
Bathroom Décor Ideas on a Budget
Whether you rent or own, a bathroom refresh is a way to reimagine your bathroom space without making costly or lease-prohibited alterations. Most summer bathroom décor refresh projects can be accomplished inexpensively, which is great news when you're working with a tight budget. The main expenses are paint, bathroom accessories, towels, a new shower curtain and décor items that fit your style and motif. If you shop around and think creatively, you can find many of these supplies at reasonable prices.