A cinder block wall, although very sturdy, is not exactly eye-pleasing. Its cold, gray and stark-looking appearance leaves much to be desired. Decorate your cinder block wall to bring some pizzazz into your home or give the outdoor cinder blocks a new faux face. You can cover your cinder block walls with inexpensive materials that do not look cheap.
Paint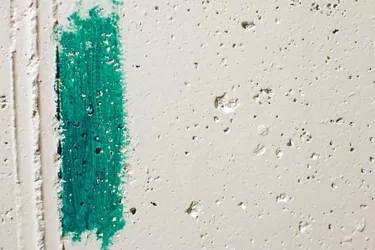 Paint is the cheapest way to disguise a cinder block wall both inside and out. The only difference is that if you are painting outside, make sure the paint will withstand the elements. To get cheap paint, browse the returns in your paint or home store. Customers select custom colors and when the mixed paint does not come out to their specifications, it goes back on the shelf for a fraction of the cost.
Design your wall to look like a natural rock or stone wall. Templates or large stencils are sold to map out the shape of the rocks as you would find them on masonry. The different styles and techniques are offered in most stores, but do a search online to get an idea of how you want your rock wall to look before buying the supplies. Field stones, slate, small stones or large ones, these are the many options you have for your faux stone or rock wall. If this wall is in your home, it will make a perfect background for a faux mantle when completed.
Another faux building material that is easy to duplicate in paint is brick. This works well both inside and out for disguising your cinder block wall.
Stucco
Resurface the wall with stucco, which is offered for both inside and outside use. Stucco can be made in designs to add texture to your wall. This material is inexpensive and can transform you cinder blocks into a solid color wall. Additives are sold to put color into the stucco. You can have a stucco wall the color of the adobe homes from the dessert, or the pinkish coral-colored stucco you see as you cruise along the shores of the Greek Islands.
Wall Hangings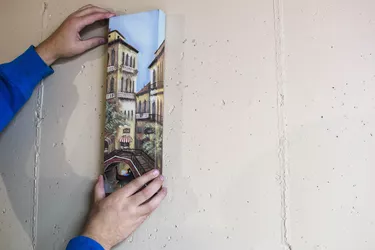 Wallpaper your inside cinder block wall with thick and busy paper. Wallpaper can go over the coarse walls of the concrete bricks if you use the correct adhesive. The trick is to find paper that will not show the texture of the wall behind it. Find thick patterned paper with texture of its own to put up on the cinder block wall.
Hang rugs on the inside cinder block wall. Cheap area carpets in Oriental rug designs can be hung side by side to cover up the cement blocks. If the rugs are too pricey, use large posters to cover the complete wall. This design will work in a family room that is located in the basement. Some of the larger movie or travel posters will not only cover the walls when hung close together, but their vibrant colors will also add to the décor.