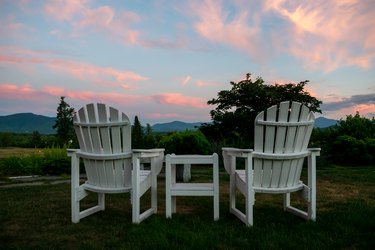 Adirondack chairs got their start in the early 1900s in the Adirondacks of New York. From the beginning, the Adirondack chair design focused on a rugged, heavy-duty outdoor seating option that could rest on the bumpy, uneven terrain found in the Adirondacks. Although Adirondack chairs can withstand the elements, it's important to pick the right type of material for your environment.
The Best Adirondack Chairs
As with most outdoor furniture of the 1900s, classic Adirondack chairs were made from natural wood. While this creates a sturdy, reliable chair, it wasn't without its issues. Wood Adirondack chairs, even when finished, aren't designed to spend hours out in the rain and snow, although you can add waterproof sealant to extend the life of your wood chair.
But modern Adirondack chairs come in a variety of materials that are more weatherproof than their wood counterparts. For instance, there are plastic chairs in the Adirondack style that you can leave outdoors year-round.
If you're interested in weather-resistant wood, consider engineered hardwoods over solid wood. Although engineered wood isn't completely waterproof, it does have more water resistance. When combined with the right sealing, you could get the protection against weather conditions you need.
For solid woods, you can't go wrong with acacia wood. Acacia trees are often sourced for hardwoods due to their water resistance and durability. Teak wood, often used on decks, is another option, especially when treated with a weatherproof finish. You might pay a little more for chairs made from a certain type of wood, but it will be worth it if it holds up.
Although Adirondack chairs can withstand the elements, it's important to pick the right type of material for your environment.
Polywood Adirondack Chairs
If you're partial to the look of wooden Adirondack chairs, there is a plastic option to consider. Often used in today's outdoor Adirondack chairs, polywood is a type of plastic Adirondack chair that is a low-maintenance alternative to wood.
Polywood is a high-density polyethylene plastic that is both fade-resistant and easy to clean. The UV-resistant pigments will hold up even if your outdoor space sees direct sunlight for hours each day. You can even find polywood made from recyclable materials for an eco-friendly solution.
Adirondack Chair Maintenance
Buying your Adirondack chair is only the beginning. You'll likely also need to do some basic maintenance. This includes routinely cleaning your backrest, contoured seat and armrests to keep them looking great.
But, depending on the material, you may also find you have to occasionally paint your chair set. Direct sunlight and weather could start to fade parts of your chair. Painting and/or finishing your wood chairs routinely could keep them looking great, while also cutting down on splinters.
Whether you're using them as patio chairs or on the front porch, there are a few extras that can make your Adirondack chair worthwhile. Cupholders can make your chair convenient, although you can simply set up a side table. It's not worth sacrificing a high-quality chair for these conveniences, but they're definitely worth working into your criteria.
It's also important to look at the design of the chair. One with wide armrests can come in handy, as well as a footrest to prop your feet up after a long, hard day. Some might prefer a reclining Adirondack lounge chair, while others need a foldable chair that they can take on the go with them.
When you're looking at patio furniture or furniture to surround your fire pit, an Adirondack chair can be the perfect solution. Make sure you choose one designed for outdoor use so that it will hold up under constant exposure to weather. Even the best price points won't be worth it if you don't get a chair that will hold up over many years of use.