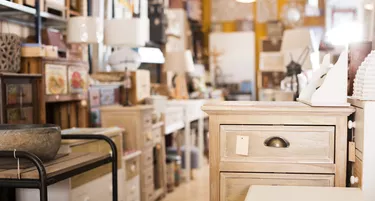 Furniture is one of life's larger expenditures, but just like buying a home or a car, the selling prices can be negotiable. Even the best furniture stores are willing to come down on the numbers, but you must be prepared before diving in. You don't need a silver tongue – a bit of research and practice can give you the expertise to deal with even the most stubborn salespeople.
Negotiating at the Best Furniture Stores
Realtor.com shares a few tips for haggling furniture prices, claiming that the majority of shoppers who negotiate for lower prices are rewarded – on an average of ​around $300​ in savings. But before heading out for a furniture store, it is important to spend some time researching the pieces that you are interested in. Stores can sell the same models at different prices, so it helps to know this information beforehand. A knowledgeable customer can easily challenge a salesperson who claims that a high price is the best one available.
Many people hesitate to speak up about getting a lower price because they simply don't like doing it, but salespeople expect to negotiate prices. In furniture stores, they often share coupons that the shoppers don't have, or offer discounts when customers buy more than one item.
Additional Strategies to Save
Buying floor model furniture is another way to save money. If you see something that interests you, be sure to check it over thoroughly for damage before buying. Should you see minor issues, you may be willing to take the piece – for a discount, of course.
If a customer is really persistent about getting a lower price, the salesperson may use the same tactic that car salespeople do – they say that they have to consult with the manager. This is done to build up pressure for the buyer, and once the salesperson returns, they will have a final offer. Still, know that they may be able to do more. Customers can also ask if there are discounts on the delivery.
Although furniture buyers may be under pressure to buy something (for example, if the dining room table broke), it is better to take your time and to be willing to walk away if the salesperson isn't willing to agree on your price. Consumer Reports points out that companies work hard to attract new customers, and once they are in the door they do not want them to leave without buying something. Savvy shoppers also know to ask more open-ended questions, such as, "This bedroom set is awesome, but I can't afford to spend ​$10,000​. What can you do to help me?"
Customers who do their research also come across as more qualified buyers: spending some time discussing the best kind of back support for a couch will make the seller know that you are serious. It is not good to be overly emotional about the purchase, though. Having a good poker face is invaluable during furniture negotiations – it is better when the salesperson does not know what you are thinking. Also, remember to ask about discounts for paying in cash.
The markup on furniture is quite high, reportedly from 200 to 400 percent. Add to that sales commissions of around 15 to 20 percent, and it doesn't make sense not to negotiate whether you are shopping at Macy's, Havertys, La-Z-Boy or elsewhere. Again, salespeople expect people to question prices, and negotiating is part of their job. If you're still hesitant, remember this: it never hurts to ask.