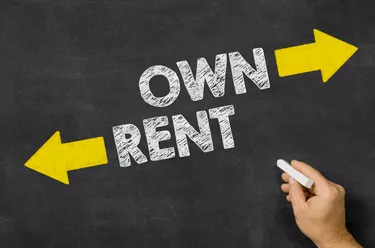 The decision of whether to rent or buy your next home goes deeper than real estate's reputation as a traditionally solid investment. With today's seller's market, rising interest rates and record-high inflation, many potential first-time homebuyers are backing off from a home purchase. But with monthly rents rising, how can you tell if buying or renting a home is the right choice for you?
Homeownership and Home Equity
Buying a home has been a way to help generation after generation build wealth by building equity. While a renter's check goes to the property owner they are renting from, a monthly mortgage payment helps a homeowner build wealth by paying down the home loan and adding equity. As the home value rises, the home equity rises.
The flipside of this is that if your home value decreases, your equity can drop.
Home values most often rise with inflation, which is good news for today's homeowners. But the resulting high selling prices are rough on those trying to break into the housing market.
Tax Savings and Homeownership
When you own your home, you get some related tax breaks. According to the IRS, you can deduct state and local real estate taxes, home mortgage interest and mortgage insurance premiums.
If your financial situation allows, the benefits of homeownership still add up over time, assuming your home value increases and you stay in your house long enough to build equity.
Other Home Purchase Costs
​Origination charges​: Mortgage lenders charge a percentage for processing.
​Earnest money deposit (EMD):​ You will get this deposit back as a credit at closing.
​Service charges:​ You incur additional fees for inspection, appraisal and title search.
​Taxes and recording fees:​ Your state charges a fee for property changing hands.
​Private mortgage insurance (PMI):​ A buyer pays PMI monthly when their down payment is under 20 percent.
​Homeowners Association (HOA) dues:​ Condo, townhome and some neighborhood communities may require monthly dues.
​Property taxes:​ State, county and local governments charge taxes based on home values.
These are some of the costs associated with securing a new house and paying for it monthly. This doesn't include the cost of home maintenance, upgrades or homeowner's insurance. These add-ons can make the difference between affordability and moving in with family members to save up for a while.
Renting Freedom and Restrictions
When you rent a home, there are a lot of fees and hassles you don't have to deal with. Managing the ownership of the property is your landlord's responsibility.
One of the largest liberties of renting is being able to get up and go with a lot fewer strings attached. If you decide to move, there is a finite length you are tied to your lease.
The backside of that freedom is that the landlord can decide what you can do to the property they are ultimately responsible for. While homeowners have the freedom to upgrade and revamp as they see fit, renters are bound by the terms and conditions of their lease — and must pass a final inspection to receive a security deposit refund.
When you own a home, all those additional costs and fees, and the red tape of the house sale, tend to tie you down. Many homeowners want to stay in the home long enough to build equity. A 2019 Zillow Housing Trends Report found that most homebuyers wait 14 years before selling.
If your financial situation allows, the benefits of homeownership still add up over time, assuming your home value increases and you stay in your house long enough to build equity. You may want to call a real estate agent, mortgage lender and get prepared to see what you can afford.
But with single-family home prices soaring and mortgage rates rising, the amount of money you need to get into a home — and stay in it — may be too far a stretch for your personal finances. While rents may be high at ​16.3 percent​ above 2021, according to Apartment List, once you sign the contract, your monthly expense for housing is relatively predictable for the lease term.