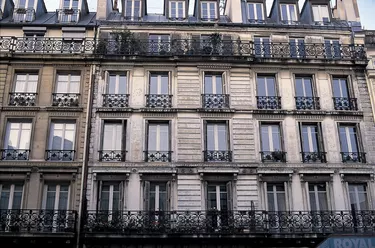 Owning an apartment building is a significant commitment of both time and money. If you're thinking of buying an investment property, begin by getting legal and financial advice before seeking financing. After you've been pre-approved for a mortgage, work with an experienced real estate agent to find a building that you can profitably own and manage.
Get Financial and Legal Advice
Before making a decision to buy a building, get legal and financial advice. An accountant can review your financial situation and let you know if you are in a position to afford to purchase and manage an investment property. In addition to getting financial advice, talk to an experienced real estate attorney about the landlord-tenant laws in your area. A lawyer can explain your obligations as a landlord and clarify any legal questions that you might have. If you decide to purchase a building, the lawyer can review your loan documents and building contracts, as well as assist you in developing lease forms for your tenants.
Make a Decision about Property Management
Typical property management duties include screening tenants, collecting rent, handling financial and legal paperwork and keeping the property in good condition. Many landlords who own small buildings choose to manage their own properties. If you don't live close to your building, or the property is very large, you may decide to hire someone else to manage your property. Your options for hiring a property manager include contracting with a property management service or hiring someone directly. Research both options and take costs into account when calculating how much you are willing to spend on a property.
Get a Mortgage
Unless you plan to pay cash for your building, you'll need a mortgage, so you'll need to get both your finances and financial records in order before approaching a lender. Begin by ensuring that you have cash for both a down payment and your mortgage application fees. According to Bankrate and HSH.com, you'll need a down payment of at least 20% of a building's value. In addition, apartment mortgage application fees can run into the thousands of dollars. Contact several lenders to find out what their fees are. Finally, check your credit reports and correct any issues before you begin the underwriting process.
Select and Purchase a Building
After you've secured financing, begin looking for buildings. Select a real estate agent who has experience in rental properties, as he/she can help you find a property that you can afford and profitably manage. Things to think about when selecting a building include location, whether there are already tenants living there, the building's condition, and the expense of maintaining the building. Review the building's history, especially the age of its systems, such as the furnace or hot water heater. Older systems can malfunction and are costly to repair and replace. Ask about utility costs, as these represent a significant ongoing expense. Once you've made your choice, your real estate agent will help you make a bid on the property and close the deal.