If you're unable to purchase a home consider finding an investor to buy it and then execute a lease-purchase option with you. A real estate lease-option contract can allow a hopeful homebuyer to apply part of the monthly rent to the agreed-upon future purchase price. Some investors purchasing homes also offer to carry mortgages for their buyers. Finding a real estate investor willing to purchase a home and then lease-option it to you or even carry financing can take some effort, though.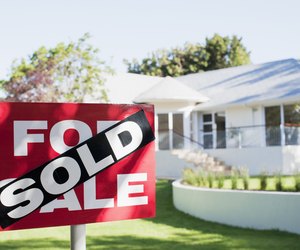 credit: Martin Barraud/OJO Images/Getty Images
Finding Suitable Real Estate Investors
Step
Investors are in the market to make money and any deal must yield that for them. For example, you may offer to pay 7 percent on a mortgage. If certificates of deposit are paying only 2 percent, a property purchase and lease-back or mortgage carry back deal may appeal to a property investor you approach. You may also offer a down payment or to sign a lease-purchase agreement giving the property investor a $200 monthly profit over his lease or mortgage carrying costs.
Step
Obtain a credit report and references. Property investors want to know what they are getting into and with whom so if you are prepared with this information you will send a message that you are serious and not trying anything shady.
Step
Advertise in classifieds and in other venues such as area print as well as online real estate publications. Be specific and realistic about the price-range and size house that you hope to get, and mention that you plan to give the investor a fair return on his money.
Step
You could also talk to an accountant, as some have clients looking for sound investments. If the accountant you consult knows of any investors he will put them in touch with you. Do not ask an accountant for the names of her clients, however. If you find a suitable property investor, follow Steps 1 and 2 above.