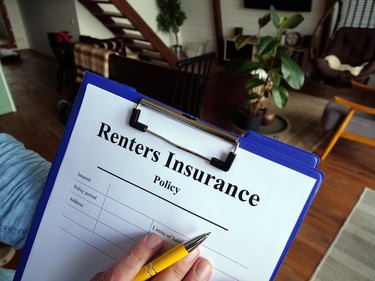 When you rent, it's on your landlord to make sure the building is safe and habitable. But the landlord is not responsible for your personal belongings – and you'll read that in your lease. It is up to you to safeguard anything you bring into the space. This is where renters insurance comes in.
What Renters Insurance Covers
Items eligible for coverage by renters insurance include:
clothing
furniture
television and electronics
computer
sports and hobby equipment
Policies cover your property and the property of visiting guests and family. But if you have a roommate, they'll need their own policy.
Disasters Covered by Renters Insurance
A renters policy covers "named perils" because they are clearly named in your policy. Most coverage includes:
Fire and smoke
Theft
Vandalism
Wind and lightning
Water damage from plumbing
Explosions
Damage from natural disasters such as earthquakes, landslides, sinkholes or floods is typically excluded from most standard policies. You'll need to find separate coverage for flooding, in particular.
Replacement Cost Value vs. Actual Value Coverage
How the company values your goods affects what you will pay each month, as well as what kind of reimbursement you'll receive.
​Replacement cost value (RCV) coverage​: Your lost or damaged item is replaced with a new one of the same quality without considering its age or condition at the time of loss.
​Actual cost value (ACV) coverage:​ Your affected property's age and condition are considered, and you are paid what the used item would be worth today. In other words, depreciation is counted.
You can secure renters insurance online or through an app in under 30 minutes.
On average, the U.S. Department of Housing and Urban Development (HUD) estimates the cost of coverage to be ​$350 per year​ for a policy with ​a $50,000 coverage limit​. Premiums can be paid monthly, or an entire year's coverage can be paid at once.
Both GEICO and State Farm advertise plans beginning at under ​$10-15 per month​, while Lemonade offers policies as low as ​$5 per month.​
Renters insurance cost varies based upon your coverage limits and location, as well as a host of other factors:
The deductible amount
Limits for temporary lodging and other disaster-related contingencies
Special coverage for high-ticket items
Whether your coverage is replacement or actual cost
Any discounts for security and safety features you might be eligible for
As with any insurance plan, the lower your coverage limit and the higher your deductible, the lower your monthly premium will be.
You can secure renters insurance online or through an app in under 30 minutes. However, it's good to do some legwork beforehand to determine the right policy and get a head start on documenting your property.
Inventory your personal items.
Determine the replacement value of each item.
Save receipts and record serial numbers.
Take photographs.
The total value of your inventory list is essential when you seek out online quotes. Most companies, including State Farm, GEICO and Lemonade, make it easy to get a quick quote online.
Once you've chosen a coverage limit and a company, you'll fill out the application and, sometimes, speak to an agent to fine-tune your policy, determine how you will pay and set a start date for coverage. This is also an excellent time to find out how to cancel or make changes to your policy.
Your policy often takes effect as soon it is approved and you've paid the first month.
Why Renters Insurance Is Worth It
When you do a home inventory, you'll see that the value of your personal belongings adds up fast. In the event of a catastrophe, without renters insurance, the only method of replacing all your lost or damaged items is to repurchase them yourself.
When you think of it that way, the annual cost of a renters policy can be anything but a waste.