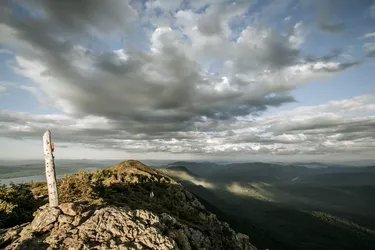 The Appalachian Trail runs from Georgia to Maine, offering more than 2,190 miles of trail hiking. You can trek the entire trail in one, half-year endeavor known as "thru-hiking" or you can take it by sections. Before you start your hike, you'll need the right gear and a clear idea of where you're going.
Most hikers start the more than 2,190-mile trek on Springer Mountain in southern Fannin County, Georgia. If you use that trail start and complete the entire journey, you'll end at Maine's highest peak, which is Mount Katahdin in Baxter State Park.
Your first step in planning your hike is to get a map of the Appalachian Trail. Even if you plan to use a hiking GPS, you'll need a map as a backup. The Appalachian Trail Conservancy has an interactive map to help, but you can also buy a paper map to take along with you.
Whether you're hiking the Appalachian Trail in its entirety, just to the halfway point or in portions, you'll need the right gear for your journey. If you're planning a thru-hike, you'll need gear that can get you through multiple months of sleeping outdoors. Items that you should pack include:
A sturdy but comfortable backpack
A lightweight and easy-to-assemble tent
A sleeping bag and pad
A lightweight but insulated jacket
Rain gear
Sunglasses and a hat
Warm undergarments
Trail runners designed for thru-hiking
Hiking socks
Bug spray
A knife
A whistle and signaling mirror
An LED headlamp with spare batteries
A first aid kit
Required permits and admission fees for each area
​​ Your first step in planning your hike is to get a map of the Appalachian Trail. ​​
Accommodations for Your Hike
If you're planning a thru-hike, you'll likely be sleeping on the trail each night. Make sure beforehand you've mapped out all the best camping spots. The Appalachian Trail Conservancy has a map of more than 250 backcountry shelters along the trail, but these are first-come, first-served, so you'll need a backup plan in case one is full.
Some trail hikers choose to step off the trail occasionally along the way to sleep in a soft bed and enjoy a nice meal. If you're attempting this hike during COVID 19 times, make sure you check each place's restrictions before you head out. A Google map can help you track down some popular off-trail spots, which include:
Typically, it will take you ​five to seven​ months to hike the entire Appalachian Trail. But keep in mind that you don't have to go from start to finish. There are plenty of section hikes you can accomplish in a day, a weekend or on your next week-long vacation.
There are several books and websites that suggest great section hikes and day hikes including The Wilderness Society's section hikes page. You can also break it down by state, looking for maps, books and websites that detail section hikes in any of the 14 states the trail spans. Those states include:
Georgia
North Carolina
Tennessee
Virginia
West Virginia
Maryland
Pennsylvania
New Jersey
New York
Connecticut
Massachusetts
Vermont
New Hampshire
Maine
​NOTE:​ Due to the lingering challenges presented by COVID-19, the Appalachian Trail Conservancy is cautioning hikers to register all hikes at ATCamp.org. Once registered, you'll get updates regarding COVID protocols, suggested gear, distancing requirements and more. This registration also ensures you're updated on any notices about parking and weather, among other issues you'll need to know.