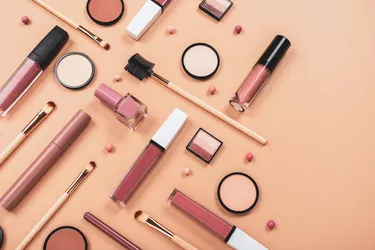 Whether you are a full-time makeup wearer or just pull out the cosmetics bag for special occasions, makeup can get pricey. The personal care industry generated $267.3 billion in the U.S. alone. But there is no reason to break your budget to get the look you want. Here are some ways to find deals on makeup.
Don't just hope there's a sale when you walk in the door. Plan ahead. Some retailers have very regular semi-annual sales. Sephora, for instance, hosts its Spring Sale and Holiday Savings Event, among others. Check their website. Groupon even posts a Sephora Sales Calendar.
If you're a department store makeup shopper, keep an eye on the store's website. Many department store coupons exclude makeup and fragrance, so look for the special annual sales that include the cosmetics counter.
Clip Coupons and Promo Codes
Pharmacy and personal care shops, like Walgreens and CVS, have cosmetics for every budget. They also tend to have great coupons and promo codes for use online or in-person shopping. This goes for supermarket cosmetic aisles, too. Before you head out, take time to check online to see what products might be BOGO or have a special deal.
Check Groupon, too. You may find a Sephora coupon or a deal on your favorite brand or local salon. If you don't have time to search on your own, browser extensions offer an additional way to automatically find discounts and savings when you shop for makeup online.
Beauty subscription boxes are an excellent way to try out new makeup and skincare items at a fraction of the cost. If you like to try out new products, a beauty box can deliver a lot for your money – straight to your doorstep.
Birchbox, Allure Beauty Box and Macy's are just a few of the dozens of subscriptions available. For an average of $20 per month, you can receive anywhere from $50 to $125 worth of product or more. Some boxes include high-end luxury items you may not usually splurge on. And many boxes come with their own unique promo codes or discounts, should you find something you want to buy again.
Most makeup retailers have membership programs that offer specials and deals for no additional cost to you.
Benefits of membership programs may include:
Earned points and rewards with purchases
Exclusive discounts
Special sales
Free shipping
A free birthday gift
Early access to new products
There are several discount and wholesale cosmetics sites that offer low-priced makeup. From discontinued makeup products on BuyMeBeauty to buy-and-sell sites like Glambot, online shopping for makeup has more options than ever.
Don't forget to look at major discount retailers, too, like Nordstrom Rack and TJMaxx. While there is no guarantee you'll find the same item every trip to a discount store, you're bound to find name-brand makeup at a fraction of the cost this way.
Buy Gift Sets Post-Holiday
At the times of the year when gift-giving is big, retailers stock gift sets of makeup and skincare items. Drugstores, makeup specialty stores and department stores all offer gift sets for gift-giving. After the new year, you're very likely to find some terrific pre-boxed deals on your favorite cosmetics. It's a great way to get a lower price, as well as bonus items.
Whether you like to try all the latest cosmetics or are someone who enjoys the occasional splurge, makeup doesn't have to cost a fortune. Joining a retailer's membership club is one of the best ways to pile up the savings and earn rewards for what you spend. When and where you shop also makes a difference. Spending a little extra time in the planning can add up to a lot of savings – and bonus items – in the end!