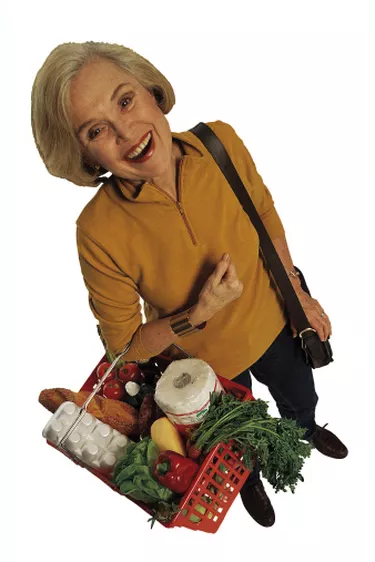 In today's economy, every penny counts. A 10 percent savings on food, toiletries, and other household items makes a difference. Safeway employees receive a 10 percent discount on store purchases, but there have been times when this savings extended to customers in certain areas through a hardship discount. One such promotion offered a 10 percent discount on store purchases, if you obtain a shingles vaccine at a Safeway pharmacy. A previous campaign offered the same deal for a flu shot, as well as when stimulus checks were cashed at stores. Although the 10 percent deal is not applicable to customers year round, watch for offers. In the meantime, there are other opportunities to save at Safeway.
Step 1
Obtain a Safeway Club card. Apply on the Safeway.com website for a Club Card. Present your card when you checkout at any Safeway store to receive exclusive discounts. Provide the name of your favorite school when you apply and Safeway will donate to the school through the eScrip program every time you use your Safeway card. When you join the Upromise college savings program, Safeway will contribute funds into your account when you buy specially marked products and use your Safeway card.
Step 2
Join Just for U. Register for this program on the Safeway website and print exclusive coupons for Safeway stores. Enter the type of items you frequently buy and deals are customized for you. Email alerts are sent with personalized deals. A free dozen eggs is offered at sign up. You must have a Safeway Club card to register.
Step 3
Load Safeway coupons. A coupon center is accessible on the Safeway website offering additional savings. Scroll through items and add the coupon directly to your Safeway card so you do not have to print or clip. The discount is applied at checkout when you present your Safeway card. Expiration dates are shown on the website coupon directory. Watch for double coupon deal notices to save even more.
Step 4
Search weekly specials. Check the link to "Weekly specials" on the Safeway website by entering your city, state or zip code. Flip through the circular for sale items, then match with your coupons to increase savings. Use your Safeway Club card when you checkout or enter your phone number at the register if you forget your card to ensure discounts are applied.
Tip
The eScrip school fundraising program offered to Safeway Club card holders is not valid in Colorado, Wyoming, South Dakota, Texas and Nebraska.